Specially designed coursework for Handlers of Working Canines 
HUMAN REMAINS DETECTION (HRD):  August 4-5
Instructor: Teresa MacPherson
# Reservations open to Participants: 18-24
# Reservations open to Observers: 10
Registration Period: June 1 – July 22, 2018
This course provides participants an opportunity to work their HRD canine in a variety of real-world scenarios with various scent sources on 125 acres. Participants will receive quality one-on-one instruction delivered by Teresa MacPherson, to include problem-solving and feedback. This two-day workshop will be largely field-work, concentrating on disaster search to include wide area search scenarios (hurricanes/tornadoes), building and rubble search areas. This course is designed for HR teams who wish to train for disaster search.  Various levels of experience will be accommodated, but all dogs must be under control, healthy, and non-aggressive. Canines must have a trained indication on HR and the handler must be affiliated with a recognized agency.
SEARCH TEAM MANAGEMENT (STM): November 10-11
Instructor: Mike Marks
# Reservations open to Participants: TBD
# Reservations open to Observers: TBD
Registration Period: August 1 – October 5, 2018
The role of a Search Team Manager (STM) is vital to successful search operations. This workshop will focus on STMs learning how to effectively utilize their canine teams and other search tools while on deployment. This workshop will include tabletop exercises to understand what resource to use and when to use them in a search scenario. In addition, there will be field work utilizing canine teams. Lessons learned from actual deployments will be discussed. Leave no one behind!

Second Drive and Decoy Workshop Offered at the National Training Center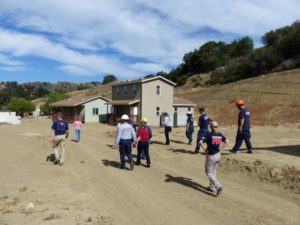 May 1-3, 2015, SDF opened its doors at the National Training Center (NTC) in Santa Paula, CA to host its second Drive & Decoy Workshop. The course was taught by SDF Master Trainer, Sonja Heritage, and then-SDF Canine Recruitment Manager, Darrell Wilkerson. The two instructed handlers on how to increase their canines' prey drive by becoming a better handler and a better decoy, or victim. In 2015, handlers were fortunate to meet Erin Venable, instructor in Animal Science, Food & Nutrition at Southern Illinois University, who gave a bonus lesson in canine nutrition and healthcare.
Course description from the USAR Foundation:
The Drive and Decoy Workshop is a highly interactive class, designed to break down "Drive" as it relates to working dogs. It will demonstrate how to develop and channel that drive to maximize training time and make your team as successful as it can be. The class instructs the student how to decoy for and motivate different breeds in order to capitalize on the positive characteristics of each breed thereby allowing you to bring this practical, hands-on knowledge and ability back to support your own team's canines.
The Drive & Decoy Workshop was open to both state and federal Canine Disaster Search Teams and served as a great learning forum for all teams who attended. Handlers greatly appreciated being able to discuss the concepts they were learning as well as share ideas and tips based on their own experiences with their canines. Many handlers left the NTC at the end of the course asking when the next workshop will be held at our learning center so they can be sure and sign up as soon as the class opens for registration.
Drive and Decoy Workshop attendees:
Pamela Krotz (Participant Colorado Task Force 1 – Denver)
Linda D'Orsi & Haley (California Task Force 8 – San Diego)
Alan Perry & Zeus (Florida Task Force 1 – Miami-Dade)
Mike Stornetta & Rocket (California Task Force 4 – Oakland)
Stacie Stornetta (Participant – Oakland)
Jens Pietrzyk & Prism (Colorado Task Force 1 – Denver)
Dennis DiMarzio & Ty (California Task Force 2 – LA County)
PJ Parker & Bodhi (Florida Task Force 1 – Miami-Dade)
Tom Carney & Gypsy & Allie (California Task Force 3 – Menlo Park)
Julie Padelford-Jansen & Ricochet (Florida Task Force 2 – Miami)

From Handler Linda D'Orsi:
"I'm getting everything out of this course that I had hoped to. I learned the building blocks of behaviors so that I can troubleshoot problems with dogs in the future. I'll bring a better skillset back to the San Diego training group. This will be especially important as new, young dogs join the team."
From Handler Jens Pietrzyk:
"The instructors were very knowledgeable! I took a ton of notes and already contacted our Training Group Leader to let her know this class is fantastic and we need to get more of our teams out here. I can't wait to return to the NTC and train on more of the props as building continues."