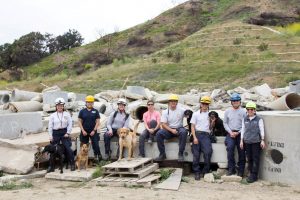 SDF hosted our first Canine Wellness workshop for working dog handlers at our National Training Center (NTC) on May 5 and 6, 2018! Handlers from California Task Force 1, Indiana Task Force 1, Oklahoma Task Force 1 and Texas Task Force 2 attended the two-day workshop, which focused on the specific aspects of fitness and healthcare that are vitally important for these incredible athletes with paws!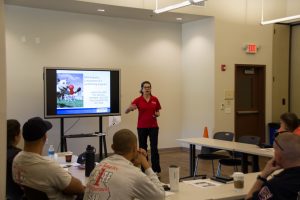 On Saturday, we welcomed Dr. Cynthia Otto, of the University of Pennsylvania School of Veterinary Medicine, and Tracy Darling, who recently joined our Canine Care team, to teach participants about working dog fitness and help everyone create a regimen specifically for their individual four-legged partners. Using FitPaws© equipment and Dr. Otto's years of experience and scientific studies, everyone enjoyed a fun and challenging day in the classroom and out in the field. Just like with the human body, canine physique requires strong core muscles and an effective fitness routine to prevent injuries while on the job.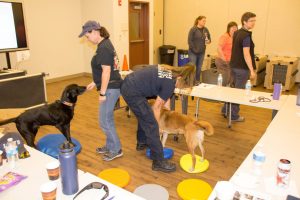 Handlers were trained how to use their FitPaws© props then practiced with their canine partners in order to gain confidence while improving their comfort level on the foreign objects. Once the Handlers and Search Dogs began to feel more at ease with the exercises, everyone headed to SDF's agility equipment under The DeMartini Training Arena. Handlers were then taught how to use the FitPaws© equipment in conjunction with training items they most likely already had at home, in order to make them more of a fitness challenge. Participating Handlers now have a better set of tools to help keep their canines at their best!
The second day of the workshop was kicked off by Dr. Erin Perry, a professor at the College of Agricultural Sciences of Southern Illinois University, who began the day with an engaging lesson in the classroom about canine nutrition, teaching Handlers how to fuel their canine athletes properly. A Canine Search Specialist for Missouri Task Force 1, Dr. Perry understands the importance of keeping your Search Dog and yourself in peak physical condition so that you can perform when disaster strikes and lives are on the line.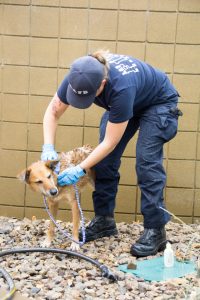 The afternoon session focused on canine decontamination in the field, ensuring that both human and canine have been properly decontaminated after being in a disaster zone. While walking streets and across rubble after a disaster, first responders and canines could very easily walk through hazardous materials and not be aware of what they are tracking back to base camp and then their own homes and families. As Dr. Perry pointed out, it is crucial that Canine Care Specialists take care of themselves and their partners diligently – Handlers are the best advocates for their canines and proper cleaning is of the utmost importance.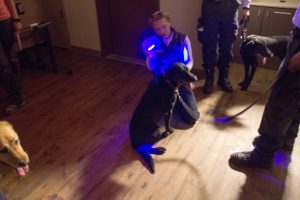 To show Handlers how easily their Search Dogs can pick up hazardous materials, and how difficult they can be to clean, Dr. Perry had each Handler run rubble searches that were laced with non-toxic "contaminants." They then went inside and used black lights to expose where the dogs had the contaminant on their fur. Dr. Perry had Handlers bathe their canines as thoroughly as they thought was necessary and, even though they knew where the contaminants were, the black lights exposed weaknesses in cleaning techniques. Participants agreed that the exercises were extremely helpful and eye opening!
We are incredibly grateful to Dr. Otto, Tracy Darling and Dr. Perry for making the trip to the West Coast and providing this year's group of participants with a valuable educational experience that will serve them well in their work for years to come!