On May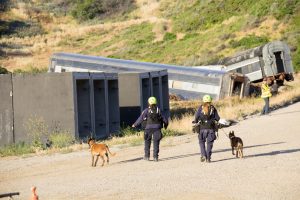 10th and 11th, SDF welcomed Virginia Task Force 1 (VA-TF1) to our National Training Center (NTC) for an intense two-night deployment simulation exercise. In the training scenario, a devastating earthquake had struck South America, and VA-TF1 members were to establish an effective operation strategy to carry out their lifesaving mission: finding survivors in the debris.
The Canine Disaster Search Teams were dropped off at the NTC by a Blackhawk helicopter, landing in Industrial Park, near the top of our campus. Four sections of the NTC were utilized during the exercise and nearly two dozen SDF volunteers participated as "victims" buried alive in the aftermath of the faux disaster. Two FEMA-qualified SDF staff members evaluated the search teams' response efforts and we are pleased to say the exercise was a success!
"Training for VA-TF1 at the NTC was a great experience for our canines and handlers. It offered our teams a chance to train on several props that are [real world] and extremely difficult. A great experience and learning opportunity for the newest to the most seasoned handler and canine."
– Chris Schaff, Program Manager for VA-TF1
"I wanted to thank you for setting up and coordinating the best VA-TF1 [K9] drill I've ever worked. The brainpower and man-hours you obviously put into this is staggering. Not to mention your heart and souls. Thank you for making me think, challenging me and my dog and for the positive support. My dog and I are both better prepared to do our job as a result of your efforts. And that's what it's all about–thank you. It was really fun, too!"
– Teresa MacPherson & Port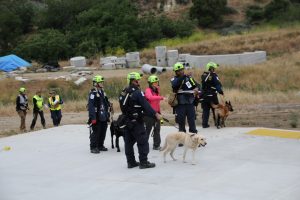 For a task force like VA-TF1 that could be sent anywhere in the world at a moment's notice, knowing that they are properly prepared for mobility is crucial. This exercise at SDF's NTC was set-up with challenges that will help each Handler and Search Dog become the best team they can be! We were thrilled to offer VA-TF1 this experience and know that all the search teams returned to the East Coast with important lessons learned and a better sense of mission-readiness, helping fulfill SDF's mission of strengthening disaster response in America.
Watch an ABC7 news broadcast of the exercise here.
See more photos of the deployment simulation below: