Shawnee, Oklahoma - Within 2½ hours, boots and paws were on the ground searching the debris.
During the past five days, tornadoes have carved a wide and tortuous path of destruction through Texas, Oklahoma, Kansas, Illinois and Iowa, killing at least seven people and injuring many more. The storms were so powerful they ripped the paint off houses and tossed trees through the air like toothpicks. Oklahoma Governor Mary Fallin declared a state of emergency after tornadoes tore through 16 counties in her state Sunday.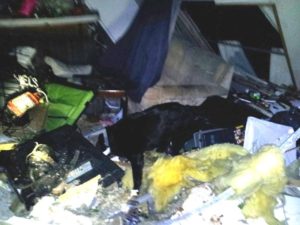 Late Sunday night, SDF Oklahoma City Teams Jason Smith & Jagger and Dane Yaw & Salsa were called out by Oklahoma Task Force 1 to search for survivors. The dogs combed the mangled remains of homes in a six-mile radius to confirm that everyone was accounted for. The teams searched from 11:30pm to 4:00am local time in Shawnee, OK.
Fellow handlers Mark Edwards (whose partner Taz is getting specialized training in California) and Brent Koeninger (training toward Certification with his new Search Dog, Moxie) helped out as "spotters," situated where they can see the canine from a different angle from the handler to monitor the dog's safety.
The Shawnee search comes on the heels of our recent deployments in Granbury and West, TX. Thanks to you, SDF's supporters across the nation, our 71 specialized Search Teams are ready to respond, to make sure no one is left behind in the wreckage.
Dane's Report:
"Seven tornadoes touched down in and around Oklahoma City last evening. Initial news reports indicated light damage and we thought we had dodged a bullet. But when radio traffic about the need for additional resources started to increase around 6:00pm, we realized things were worse than what had been reported.
The Task Force was put on stand-by and activated 25 minutes later. Within 2½ hours we had boots and paws on the ground searching. Five rescue teams were assigned to search 6 square miles with 250 homes, where 37 people had been injured and one fatality reported. Searching tornado debris fields is difficult; doing it at night is formidable. The structure density was greater than we've seen before, with massive devastation. There was very little down time between searches. As with every deployment, we needed more K9s than what were on hand. But with good training and highly skilled dogs, our assigned search area was complete before sunrise.
The local agencies who had never seen a USAR [Urban Search and Rescue] dog search a pile were amazed at their speed and agility, and commented several times on how long it takes them to do the same kind of detailed search without the aid of K9s. The dogs took the conditions in stride and never slowed down. I was so pleased at the way our dogs performed over some of the worst debris fields we've ever searched."
Jagger, a Yellow Lab, was recruited from Haven Humane shelter in Redding, CA
Salsa, a Black Lab, was given to SDF by Guide Dogs of America in Sylmar, CA