We will be continually updating this post with any news related to SDF during the Thomas Fire incident. Please follow our social media feeds and check back periodically for updates. Thank you all for your support and for being Part of the Search!
MONDAY, DECEMBER 11 – 4:00 PM
For many of us on staff, and we're sure some of you, this past week has been a blur. As you know, our dogs and staff were evacuated from our National Training Center (NTC) campus Monday evening before the Thomas Fire entered Wheeler Canyon, and everyone has been safe and sound at hotels in the Ventura area since.
Driving the road to the NTC on our first trip back to campus, many of us held our collective breath as we drove past several structures that had burned down. As we completed the curve just before the entrance to our facility, we were anxious to see what awaited us. Thankfully, we were relieved to see all of our main buildings – the Welcome Center, Handlers' Lodge, Canine Pavilion and Caretaker's Quarters – were unscathed, as were the Showgrounds, Canine Memorial Wall, and Guardian Glade.
DAMAGE IN A SIMULATED DISASTER ZONE – WHAT WAS AFFECTED AT THE NTC?
Though the landscape is now in stark contrast to what we left behind as we exited our gates Monday evening, we are so grateful that all of our staff, our visiting Handlers, and dogs are safe.
Somehow, miraculously, only a few areas of the NTC were affected as the fire raged down our canyon toward the roadway and into the hills westward:
Search City has burned to the ground, with only remnants of the buildings and vehicles that made up our mini disaster neighborhood remaining. The train car at the top of the Train Wreck prop was burned and will no longer be usable and, sadly, the historic Boone's Cabin, containing relics from over one hundred years of history is completely gone. Other areas throughout the campus were also impacted but these three areas were the worst of it.




It has been heartbreaking to see the damage sustained by our local community– and our hearts go out to those who have lost so much more.
POINTING A NOSE TO THE FUTURE
We have already begun moving forward with our insurance company to recover from the fire and rebuild the areas affected. Cleaning crews are mopping up the kennel areas and buildings this week as we prepare for the return of our dogs and staff to the NTC.
While we are all eager to return to our home at the NTC, we are being careful to take every precaution to ensure the health and safety of our dogs and staff. Everyone is well cared for where they are currently staying, and we will move the dogs back to the kennels and staff back into the offices when the NTC is ready for us to return.
Despite this setback, we still have a job to do and will continue to put all donations to good use. All gifts will help strengthen our operations as we move forward.
Our Trainers have been working with our dogs each and every day on the training elements possible at the hotel, keeping them engaged both physically and mentally during their displacement.
When we return to the NTC, our operations will return to normal and we will forge ahead training new Search Dogs and partnering them with First Responder-Handlers to help find survivors after disasters.
FOR THE DOGS. FOR OUR COMMUNITIES. FOR OUR COUNTRY.
We look forward to having you continue on this journey with us as we get back on our paws and continue fulfilling our mission of strengthening disaster response in America. This may have been a bump in the road but, inspired by the strength and resolve of our community, we are confident that 2018 will be a successful year for SDF.
Please join us in thanking the amazing emergency responders, including some of our Handlers who are working the front lines of this fire, the hotel staff providing accommodations for our dogs and staff, our incredible volunteers and staff for stepping up to help in any way possible and, thank YOU, for supporting us as we come through this incident together.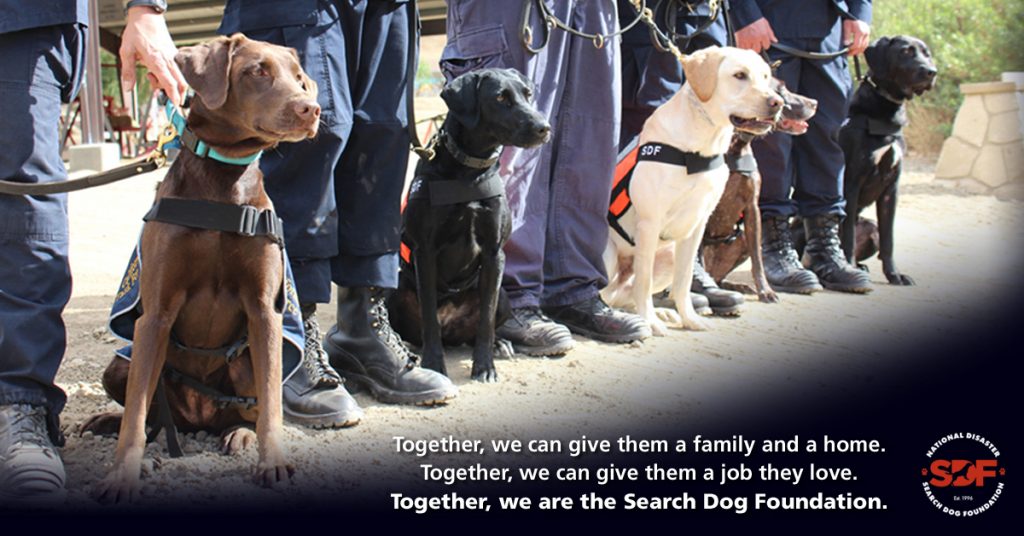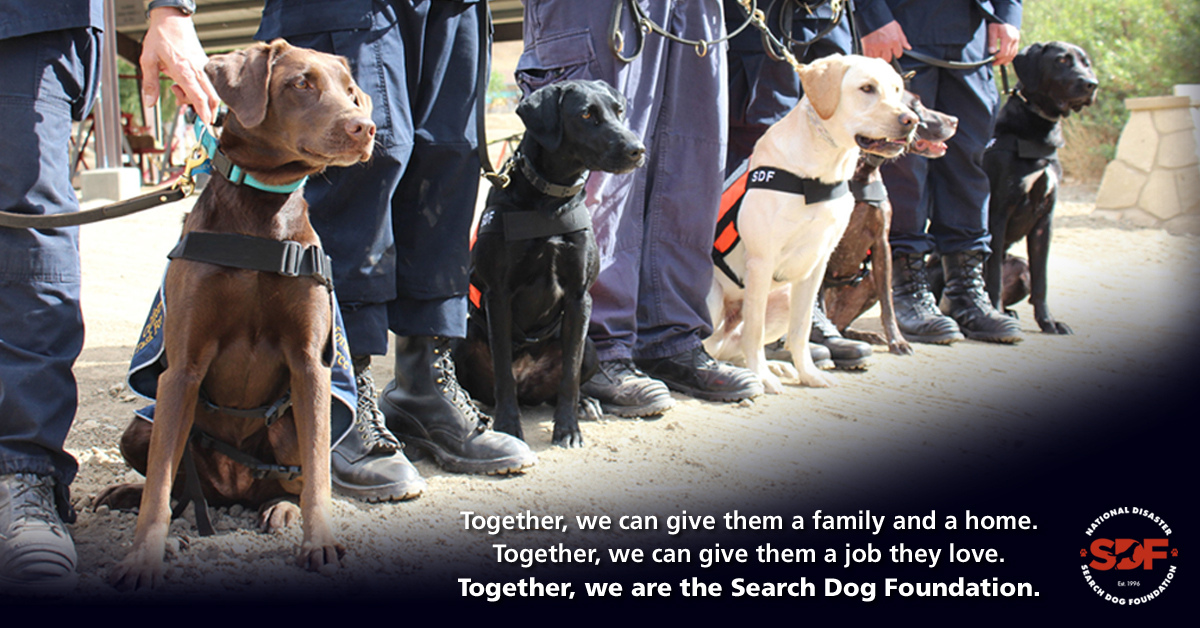 THURSDAY, DECEMBER 7 – 2:00 PM
There has been no change in status today – our Search Dogs in-training are still happy and healthy with our staff in Ventura, enjoying many outings each day and lots of love!
Several of our staff members have evacuated from areas affected by the fire but are all safe and accounted for.
We are so humbled by the strength of our communities and the dedication of the first responders fighting this blaze. Thank you all again for your support!
Daisy enjoying the comings and goings at the hotel
Canine Recruitment Manager Sylvia Stoney and Blake
Program Manager Kate Horwick and Cody
Trainer Emily Hodges and Zeke
Ozcar enjoys a little break outside before retreating inside and out of the smoke
Looking west to the sunset
Canine Care Specialist Krista Perez and Dallas brave the wind for a little outside break
Program Administrator Dave Lindee and Daisy go for a little walk
Even during a disaster, our Search Dogs in-training enjoying room service, courtesy of our Canine Care teams
Program Administrator Dave Lindee shows the smoky view of the ocean from Ventura
WEDNESDAY, DECEMBER 6 – 11:00 AM
We are happy to report that our Search Dogs in-training are settled in and doing well, with our staff working around the clock to ensure all dogs are fed, watered, walked and given plenty of love. Special thanks to the Crowne Plaza Ventura Beach and Ventura Beach Marriott for their hospitality while we wait for #ThomasFire evacuation orders to be lifted and assess what needs to be done at the NTC in order for us to return home.
We are so grateful to California Task Force 7 (Sacramento) Handlers Brandon Andersen, Brandon Budd, Vinnie Fuccella and Paul Januario who evacuated the NTC with us and have been helping care for our pups ever since.
Last, but certainly not least, we continue to send a big THANK YOU to all the first responders fighting the wildfires, including many of our Handlers, who are on the front lines with strike teams throughout Southern California. Our thoughts are with everyone working to help others during this disaster – keep up the good work and please stay safe out there!










TUESDAY, DECEMBER 5 – 11:30 AM
First and foremost, we are so grateful to the incredible fire crews who have worked tirelessly over the past 17 hours to fight the Thomas Fire. The winds in Ventura County have been relentless since it began and our thoughts are with everyone affected by this devastating blaze.
We were able to reenter Wheeler Canyon and get to the National Training Center (NTC) this morning – the campus remains mostly intact and we are conducting damage assessment throughout the property today. Due to poor air quality and the quickly changing situation, our Search Dogs in training will remain in the Ventura area with our staff until it is safe to return to the NTC.
Thank you all for the thoughts and prayers – we consider each of you as part of the SDF family and we are so appreciative of the support you've provided during this harrowing time.
MONDAY, DECEMBER 4 – 8:45 PM
Due to the unpredictability of the strong winds and the fast pace of the Thomas Fire threatening the foothills of Santa Paula tonight, we have made the decision to evacuate the National Training Center – all humans and canines are accounted for and leaving the campus. They will be staying in the Ventura area tonight and our staff is caring for our Search Dogs in training, along with help from our Sacramento Handlers who were staying at the NTC tonight as well.
Thank you to everyone who has expressed concern and offered assistance tonight. We will keep everyone posted as the situation evolves.