On the night of Saturday, April 29, members of Texas Task Force 2, including five SDF-trained Canine Disaster Search Teams, deployed to Canton, Texas, to assist in searching for survivors following a series of deadly tornadoes that left a path of destruction through three counties.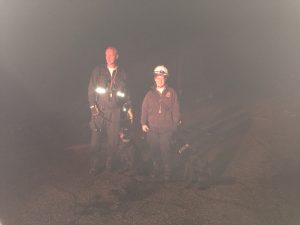 The SDF teams deployed were:
Derek Chaky & Scout
Robert Grant & Rocky
Patti Krafft & Billy
Laurel Pitman & Sonic
Andi Sutcliffe & Skye
Shifts of rescuers searched through the night Saturday and all day Sunday and Monday, working tirelessly to find the people still unaccounted for after the storms.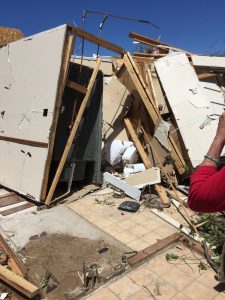 SDF Handler Laurel Pitman sent us a quick email describing the scene:
Each team joined a squad looking for survivors living on rural farm roads, in heavily wooded areas or fields, where homes were destroyed by the tornadoes. Many large trees were found in the paths of the rescue teams, all snapped like toothpicks or uprooted, blocking roads and driveways, slowing the search for survivors. Many homes were missing roofs, while some received partial collapse or were totally destroyed. Trailer homes and vehicles were tossed around, picked off the ground and are now unrecognizable.
The teams completed their searching on Monday evening, returning home safely to the Dallas area. Handler Andi Sutcliffe shared how their team felt the operation was a success upon arriving home:
We all showed up to do what we know how to do and what the dogs know to do and it was a success! Honestly, it's so exhilarating and energizing and worth every bit of sweat equity that we put into it.
We are very proud of the work done by the Search Dogs, Handlers and Texas Task Force 2. Thank you so much for being part of the SDF family and helping to be sure these teams are prepared for times like these when they're needed most.
Thank you for being Part of the Search!