Ahead of a major rainstorm event this week, Task Forces throughout California prepared to respond, in case of a repeat of the devastating Montecito mudslides in January 2018. Six SDF-trained Search Teams were activated to stand ready -- teams from Long Beach Fire and Orange County Fire Authority arrived in Santa Barbara County, staging alongside local team Eric Gray & Riley, and Dennis Clark & Rugby, with Los Angeles County Fire, remained at their technical operations station to assist communities as needed.
Though the teams, thankfully, weren't needed, they were prepared... and that's what it's all about.
Luckily for the Orange County teams, they were able to stay at the All Saints by the Sea Church in Montecito while they staged and left this wonderful message: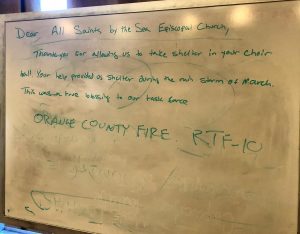 The Search Teams that staged are:
REGIONAL TASK FORCE 3 (Long Beach Fire)
Wade Haller & Rex
REGIONAL TASK FORCE 10 (Orange County Fire Authority)
Davis Doty & Jester
Doug Van Iwaarden & Sadie
REGIONAL TASK FORCE 12 (Santa Barbara County Fire)
Eric Gray & Riley
Los Angeles County Fire
Dennis Clark & Rugby
Mike Toepfer & Deacon
Thank you for your support of our Search Dogs and Handlers, helping ensure they are ready for potential incidents like this. Thank you for being Part of the Search!