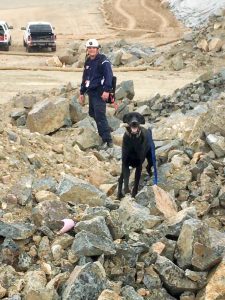 In February 2018, SDF Head Trainer Sonja Heritage traveled to San Diego to work with Veteran and new Search Teams as part of SDF's Field Rep program.
"It was a really productive trip," shared Sonja, who worked with several of our Search Teams from California Task Force 8. SDF Search Dogs Asta, Decker, Dora, and Haley braved the cold and stormy weather to work on direction and control, agility and rubble search with their handlers.
The teams utilized different search scenarios including building searches, green-waste piles, and a 100,000 square foot demolition rock and concrete pile. The rare Southern California rain made for a more challenging and invigorating training session at the sites.
"The veteran teams continue to shine," recalled Sonja. "Our new teams are working through their challenges—victories of being a search dog handler. I'm very proud of all of them!"