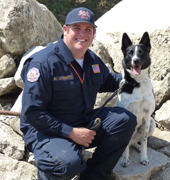 Team Info
Task Force: California Task Force 4 (CA-TF4)
Agency: Windsor Fire Protection District
Level: DHS/FEMA Certified
Most Recent Certification: February 21, 2015
Search Dog Info
Breed: Border Collie Mix
Sex: Male
Born: February 2, 2012
Recruited from: Sacramento SPCA – Sacramento, CA
Donated by: Bergquist Family
Recruited by: Andrea Bergquist
Sponsors: The Joel and Dena Gambord Charitable Foundation
Named by: Jack Bergquist (at age 4)
Full Name: Rocket Booster
In late 2012, the Sacramento SPCA contacted SDF canine recruitment volunteer Andrea Bergquist, wife of SDF handler Chris Bergquist, about a potential candidate at their shelter. Andrea evaluated the dog but he originally did not successfully pass our series of tests. Due to his high energy, he was considered unadoptable and placed on the euthanasia list.
Andrea returned home and continued to think about this dog – he had lots of potential and a really unique personality. Unable to shake the thought that there was something special about the dog, Andrea returned to the shelter and introduced him to Chris with the idea that they would save his life and adopt him themselves. Chris explained, "(we) became good friends almost immediately. He had an intensity about him you could just feel. However a search dog he was not. Andrea felt she could do something with him, most likely agility. We brought him home and he began his life as a pet".
After returning home, their four year old son, Jack, named the dog Rocket Booster, Rocket for short, and over the next several months he began to gain focus and an incredible toy drive. Chris began taking him to trainings with his search dog Kari, and Rocket excelled on the rubble pile. The Bergquists re-tested Rocket for search and rescue in November of 2013 and this time he blew them away. They made the drive to our National Training Center in Santa Paula to have him evaluated by SDF Master Trainer Sonja Heritage, and donated Rocket to our program on the spot when Sonja agreed he had what it takes to be a Search Dog.
Rocket thrived in training and was partnered with Engineer Mike Stornetta of the Windsor Fire District on August 6, 2014. Rocket and Mike began to train daily in preparation for their Federal Emergency Management Agency (FEMA) Certification Evaluation, which is required for them to deploy to disaster zones with California Task Force 4, based in Oakland, when the call comes. The team achieved FEMA Certification in Las Vegas, NV on February 21, 2015.
Mike and Rocket made their County and District proud when they were called out to their first deployment following a plane crash in Santa Rosa on January 28, 2016. A small passenger plane had tragically claimed two lives, and rescue crews on the scene knew that if there were additional passengers to be located, Rocket could do the job well. He quickly and efficiently scoured the plane wreckage and did an area search but did not alert, effectively communicating to Mike that there was no one still in need of assistance.
We are thrilled to work with such an outstanding team and look forward to following their career milestones and successes!