Wilma Melville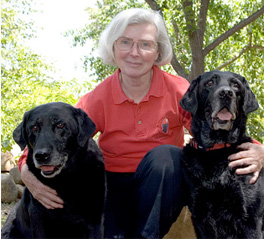 A retired Physical Education instructor and grandmother of six, Wilma was one of the FEMA-Certified Canine Search Specialists deployed to the Oklahoma City Bombing in 1995. Convinced that America needed more highly trained teams to respond to disasters, she founded the National Disaster Search Dog Foundation (SDF) to address this gap in our nation's disaster response network. She partnered with renowned dog trainer Pluis Davern, and together they created a new methodology for training Search Dogs. Still active within the Foundation, Wilma serves on the Board of Directors and is involved with the planning of the National Training Center. When time permits, Wilma enjoys piloting her experimental airplane, an RV7A, based at her hangar at Santa Paula Airport.
An Interview with Wilma
Why did a retired schoolteacher from New Jersey complicate her life by founding an organization dedicated to training the nation's most highly skilled search dogs? "I went to Oklahoma City." Simply put, quietly spoken, this is how Wilma's story—and the story of SDF—begins.
How did you get involved in what has become your life's mission?
After retiring from a career as a Physical Education teacher, I indulged in my yearning to have a highly trained dog. I had the good fortune of finding Pluis Davern, a nationally renowned canine trainer at Sundowners Training Kennel in Gilroy, California.
Pluis worked with me and my Black Lab, Murphy, teaching us the skills that make a fine canine search team. Even more importantly, Pluis imparted values and concepts to us that have influenced my life, and the formation of this Foundation. These principles are the bedrock of how we move into the future. Murphy and I attained Advanced Disaster Search Dog certification with the Federal Emergency Management Agency (FEMA). At that time there were very few Certified teams in the entire country.
In April of 1995, Murphy and I were deployed to the terrorist-bombed Federal Building in Oklahoma City. Murphy and the other search dogs covered large areas of rubble, barking loudly to indicate where victims were buried, thereby saving precious time for firefighters. This disaster made it clear that there were too few certified search dog/handler teams. Out of this heartbreaking experience came a determination to find a better way to create highly skilled canine search teams.
How did the Oklahoma City bombing propel you to start SDF?
At that point, in 1995, there were only 15 Advanced Certified disaster search dog/handler teams in the entire U.S. (there are over 250 now). It was obvious to me that we would be crippled by any large-scale disaster with so few FEMA-certified teams. Somehow, there had to be a way to train more, and to train them faster, in a more cost-efficient manner.
How could you speed up the process of training search teams?
Well, that was the question. Up until 1995, all disaster search dogs certified in the United States were trained and handled by civilian volunteers using methods brought by the Swiss 15 years earlier. But it took three to five years to train for Certification—to say nothing of the owner spending upwards of $15,000 on training equipment, travel, veterinary care, training group fees and the purchase of a dog from proven working lines. There was little professional training of either dog or handler, so few made it to certification. Clearly, there were many pitfalls in this approach, ranging from choosing the wrong dog to trying to maintain motivation through such a long training period. There had to be a better way.
Once you started the foundation, how did you address the challenges of getting teams through certification?
My experience with trainer Pluis Davern taught me the three ingredients that are paramount: the right dog, matched with the right handler, and professional training for both. This three-pronged combination not only addresses those pitfalls, but also accounts for our success rate in turning rescued dogs into rescuers. The Foundation chooses the dog, raises the funds to have the dog professionally trained, and then works with the handler and dog as a team until they reach certification and beyond. Another part of the success is that we use firefighters, who are first to a disaster, as the handlers. Skills needed for deployment often go far beyond the testing for certification; we use testing as a way-point but not an end in itself. This is a long road, and firefighters have the discipline that's needed, a schedule that accommodates an intensive training regimen and have a job that is disaster-related. Plus, they already have certification in many disaster response areas, and the skills needed to save lives.
How do you find the right dogs?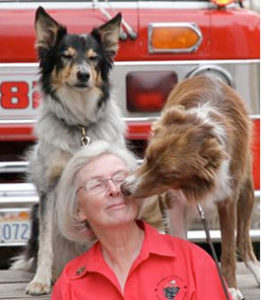 SDF's regional canine recruiters comb animal shelters and rescues across the country looking for dogs (primarily Labs, Golden Retrievers, Border Collies, German Shepherds, Belgian Malinois, and mixes of those breeds) that possess the exceptional characteristics required in a search dog: intense drive, athleticism, energy and focus. In many cases these exact qualities make them unsuitable as family pets, but perfect candidates for search and rescue work.
Recruiting rescued dogs has been and always will be fundamental to our program. In recent times, however, there has been a severe shortage of shelter dogs in the US that have the unique set of characteristics SDF seeks. This is due to successful adoption programs, micro-chipping and spay/neuter initiatives that have decreased the number of homeless dogs in the US. Additionally, a rising number of government and service dog agencies have discovered the vital need for similar canines in their programs, creating competition for these exceptional candidates. SDF's ability to raise the bar for what a Search Dog needs to be has also made it more challenging to find these dogs at a shelter or with a breed rescue group. It is truly like finding a "furry needle in a haystack"!
Consequently, to satisfy our increasing obligation to Task Forces around the country, we occasionally purchase a dog with the essential behavioral traits needed to be a Search Dog. They are obtained from a reliable and vetted source. SDF's highest priority is to recruit, train and support our Search Teams across the country to ensure that when disasters do occur, First Responders and their devoted canine partners are ready to serve their communities at a moment's notice.
How have SDF Teams helped?
SDF canine disaster search teams have been deployed to more than 130 emergencies and disasters, including the 9/11 World Trade Center attack, Hurricane Katrina, the Haiti earthquake, the Japan earthquake and tsunami, and tornadoes in Joplin, Missouri and Oklahoma City. At disaster sites, SDF-trained teams search the rubble quickly and effectively, ensuring that no survivors are left behind. In Haiti, 12 survivors were brought to safety.
How do you feel about the future of SDF?
The United States recognizes the need to be better prepared for a wide variety of disasters. As a result, most states are developing urban search-and-rescue capabilities. The demand for canine disaster search teams is growing rapidly. SDF is responding to this need, providing highly skilled teams to be placed throughout the country. SDF has trained more than 130 canine disaster search teams, and currently has 67 active teams throughout the U.S. and in Baja California. When disaster strikes, SDF will be there, ready to save lives.
What is SDF's National Training Center project?
SDF has constructed a National Training Center (NTC) for all canine disaster search teams who risk their lives to make sure no one is left behind when disaster strikes. It is the only center of its kind in the U.S. To meet the urgent need for more search teams, the facility brings together canine recruitment and training, advanced training of teams at simulated disaster sites, and certification testing. Located at a historic ranch site 90 minutes north of Los Angeles, the Center serves as a disaster response resource for the entire nation. This unique project called upon the "can do" spirit of America, mobilizing the resources, talents and energy of the private and nonprofit sectors to bring a life-saving gift to the nation—at no cost to taxpayers.