SDF Teams Search for Survivors of Oklahoma Tornadoes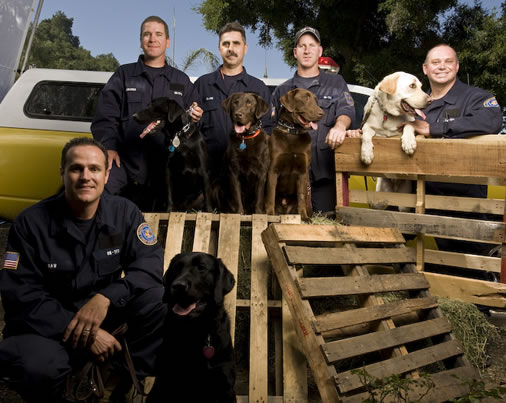 On the afternoon of May 10, seven deadly tornadoes touched down near Oklahoma City. The twisters killed five people, injured dozens, and damaged over 50 homes across three counties in a matter of hours. Four of SDF's five Oklahoma City teams were called out by Oklahoma Task Force 1 to search for survivors:
Mark Edwards & Taz
Brent Koeninger & Huck
Jason Smith & Jagger
Dane Yaw & Salsa
The dogs combed the wreckage of areas hardest hit by the tornadoes, including homes, businesses, and an airport. They worked through the night to ensure no one was left behind. This deployment marked the first for the newly formed Task Force.
Reported SDF Handler Dane Yaw upon their return Tuesday morning:

"Reality hit us when we arrived that this was not a training. It was dark, foggy, and much harder to conduct the search than during our regular training exercises. Our dogs were eager to search despite the conditions, and worked well all night long. You train for deployments you hope never happen. When they do, it's an awesome feeling knowing your dog is ready for anything. We can walk away from the neighborhoods we searched knowing that everything possible was done to find survivors."
The deployment of the Oklahoma teams has very special significance to the Search Dog Foundation, marking a return our Midwest roots. It was Wilma Melville's deployment to the Oklahoma City bombing in 1995 that inspired her to found the Search Dog Foundation.
Says Wilma:

"Congratulations to our Oklahoma Search Teams on their first deployment! It fills my heart with pride to have well-trained teams in a region so prone to tornadoes and other natural disasters. Our four new Texas teams will soon be ready to deploy, and later this year we'll add four Nebraska teams to our 'tornado belt' roster. When disaster strikes, the teams will be there, ready to save lives."
With more Oklahoma tornadoes in the forecast tonight and tomorrow, the teams are standing by, ready to respond at a moment's notice. Our thanks to all SDF supporters for making it possible for these extraordinary dogs and their human partners to be part of this rescue effort!