Following Hurricanes Harvey and Irma, which saw 26 SDF-trained Search Teams deployed, seven of our teams have now responded to Mexico City following a deadly 7.2 magnitude earthquake that struck the region on the morning of September 19.
SEPTEMBER 21, 2017 – 11:30 AM LOCAL TIME
As the rescue work continues in and around Mexico City, 5 Los Angeles-based Search Teams have deployed as part of USA-2. USA-2 is the designated Task Force name when California Task Force 2 deploys internationally with the Office of Foreign Disaster Assistance (OFDA).
The additional SDF-trained Canine Disaster Search Teams now deployed are:
All 7 Search Dogs now deployed, from both BC-TF3 and USA-2, have trained at SDF's National Training Center and we know that they are well prepared for any search challenges they face.
SEPTEMBER 20, 2017 – 11 AM LOCAL TIME
While we await updates from our teams on the ground in Mexico City, SDF Head Trainer Sonja Heritage spoke with CNN's Newsroom about what challenges rescuers may face while finding and saving those buried beneath the rubble.
See Sonja's interview by clicking the screen shot below: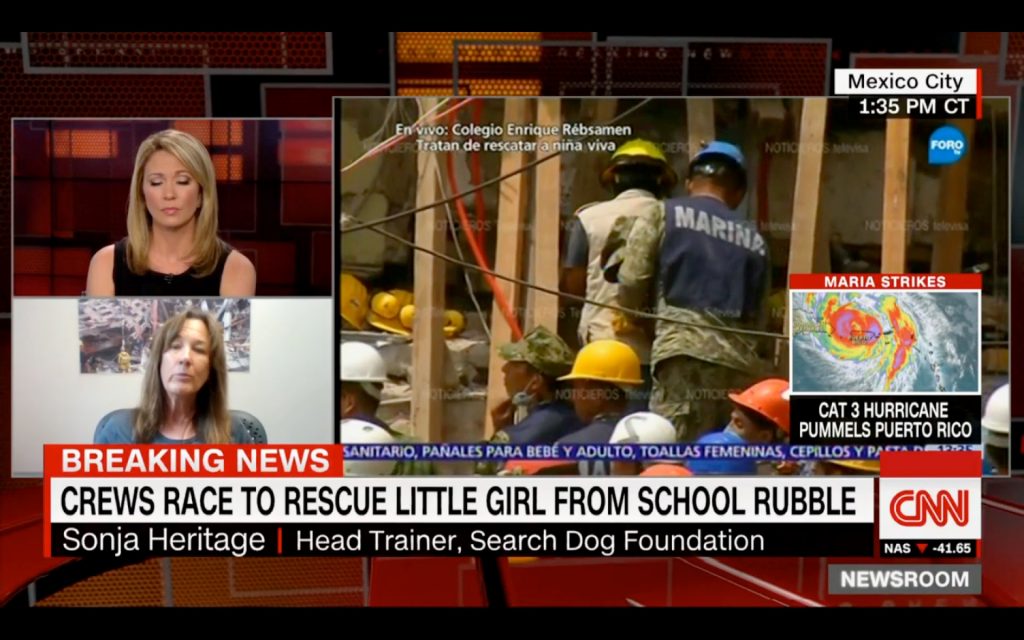 SEPTEMBER 19, 2017 - 1:30 PM LOCAL TIME
Two of SDF's Search Teams have been activated to assist in rescue efforts in Mexico City. These Tijuana-based teams will respond with Baja California Task Force 3 (BC-TF3) to help locate and rescue survivors of the earthquake.
The following SDF-trained Canine Disaster Search Teams are deployed:
Additional Task Forces are standing by to assist should they be needed.
Thank you for all of your support to ensure that when disaster strikes, Search Teams are there to help those most in need. We hope you take pride in the fact that you are a part of the important mission these Task Forces have ahead of them!
Get the PDF version of the Mexico Earthquake Deployment Roster here.