Meet two of our canine candidates in training: Deacon and Frisco!
DEACON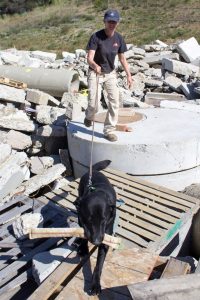 Deacon was privately donated to SDF and he arrived at our National Training Center (NTC) in Santa Paula, California on December 26, 2016. What a present Deacon has turned out to be! The young Black Labrador is as much a natural at Urban Disaster Search and Rescue work as ever we have seen!
Within a few weeks of working with him SDF Trainer Emily Fisk reported, "Deacon is a crack up! He works with SUCH enthusiasm! He is very, very quick and intense, and barks so. He is going to be a rock star Search Dog."
Deacon has approached each stage of training with the same energy, intelligence and athleticism. It is truly a joy to watch him travel a rubble pile and often an audible "Wow!" is heard by anyone who has the privilege of seeing him at work.
Most likely, thanks to the speed with which he's progressed through the program, Deacon will graduate on September 1, 2017. At that time, he will be partnered with a first responder handler on a U.S. task force. The new team will then train together to achieve Certification that will allow them to deploy when disasters strike!
FRISCO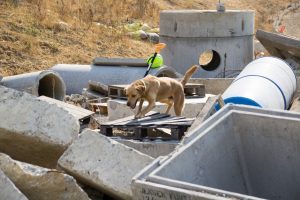 Frisco was originally surrendered by his owners to Humane Society of Cowlitz County in Longview, Washington. Because he was so obsessed with his ball, he was way too much dog for them. Cowlitz County was full and was unable to keep him, so Lisa Beggio, a staff member from Columbia Humane Society in Saint Helens, Oregon, went to evaluate dogs to see if they could help relieve Cowlitz County of some of their large population. Thankfully, this type of networking is common within the shelter system, and they are able to save more animal's lives by working cooperatively.
Lisa has developed a working relationship with SDF Canine Recruiter Kirsten Fulk, who routinely visits the shelters in the region looking for potential Search Dog candidates. Lisa said she recognized immediately that Frisco would be a good prospect for our line of work, so she transported him to Columbia Humane and contacted Kirsten, who drove there to evaluate Frisco. Kirsten told SDF, "he passed with flying colors."
Kirsten brought Frisco to SDF's National Training Center in Santa Paula, California in April of 2017 and he truly impressed our trainers. Frisco is extremely driven and exhibits incredible enthusiasm for toys! He's progressing well in the program and is expected to graduate sometime in the winter.