Meet two of our canine candidates in training: Flyer and Luka!
FLYER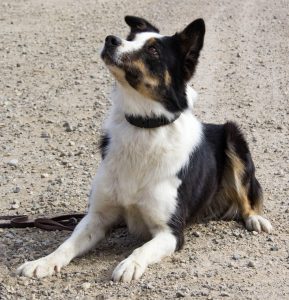 Flyer is a rescued Border Collie mix that always appears to be smiling and happy to work– her one floppy ear emphasizes her spunky character.
Flyer came to us through Haven Humane Society in Redding, CA after animal control picked her up as a stray. When a staff member at Haven Humane noticed Flyer's excitement for a ball, she immediately contacted SDF Canine Recruiter Kirsten Fulk to come and evaluate Flyer to be a Search Dog. When Kirsten met Flyer (who did not have a name at the time), she named her Flyer after watching her jump straight into the air every time she tried to get to the ball.
Sweet-natured, beautiful and incredibly smart, Flyer is the perfect name for this amazing pup who seemingly glides over the rubble pile with ease. A very thoughtful and efficient searcher, Flyer is a treat to watch as she uses her smarts and agility to locate "victims" in a very methodical and linear way. The latest addition to Flyer's training is a diffuse scent box, which allows her to work on locating the strongest source of scent while searching, a vital component to her future career.
As with everything else, Flyer seems to be picking it up quickly and watching her figure out challenges and find solutions is amazing! Flyer is such an ideal student that she is going to be graduating from our program at the end of April.
LUKA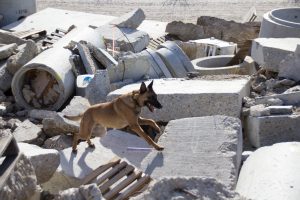 Luka was picked up as a stray by animal control with the Tracy Police Department in Tracy, CA. He was adopted several times but  returned each time to the shelter because he was "too much dog" for the average family to handle. Finally, SDF Canine Recruiter Kirsten Fulk came upon this Malinois and recognized that he also had the personality characteristics that make for a great Search Dog!
Originally named Gator, Luka was renamed in honor of Captain Dustin R. Lukasiewicz, who was one of six marines and two Nepalese soldiers who died in 2015 when a helicopter crashed in the Himalayas while on an earthquake relief mission in Nepal.
Another stellar candidate here at our National Training Center, Luka is as smart as he is handsome! After transitioning to our rubble pile in December, Luka continues to be a "beast of a Search Dog," according to our training team, who are continually impressed with his problem-solving skills and grace on the pile. Quickly and efficiently locating the hidden "victims," Luka gives a strong bark alert to let the trainers know his mission was a success. Luka is also scheduled to graduate at the end of April!