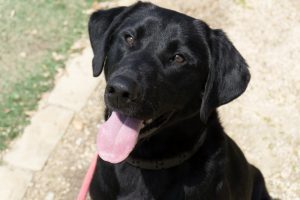 Ruffy is a 2-year-old Black Lab who started out as a field trial dog, training in the outskirts of San Diego, CA. His owner contacted SDF when she realized that Ruffy was too loud and too rambunctious for the world of field trial.
While these traits did not make for a well-behaved dog in that working dog discipline, he excelled in his search and rescue assessment by SDF Recruiter Kirsten Fulk, who was happy to bring him to the NTC to be officially evaluated. Once he arrived at SDF, he passed our tests with ease and started his training—working on turning his voice into the all-important Bark Alert that means our dogs have found live human scent in the rubble.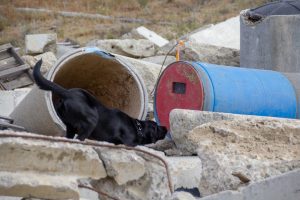 Since arriving at SDF in March, this polite and intelligent candidate has truly found his voice—and it seems to echo across the NTC! With a ton of drive, Ruffy is flying through training and has transitioned into barrels on the rubble instead of barrels in the arena. His bark now gets stronger when he finds his "victim," which is a critical part of the process when training to save lives after a disaster.
In addition to being a natural born searcher, he is progressing quickly through our program and doing excellent in Agility, Direction & Control, and Obedience too! He has a nice "on and off" switch and great temperament, and according to Trainer Mandy Tisdale has earned a "gold star" in SDF's program!