Amber is from a private donor in nearby Fillmore, California. This gorgeous and sweet-natured Belgian Malinois has been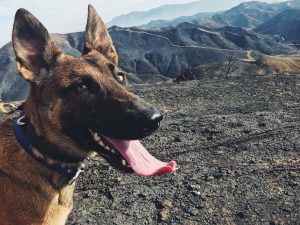 stealing the hearts of trainers and staff alike.
She is learning to connect a strong bark alert with the reward of a fire hose tug toy – one of her favorites!  Amber has started to learn the search "game" and is working concurrently on Agility, Obedience and Direction & Control. At the moment, she is mastering the basics of mounting the Direction & Control platforms and then waiting for direction from the trainers, before continuing on to more advanced moves. All in all, Amber is quick on the uptake and has a blast training – a winning combination when it comes to being a Search Dog!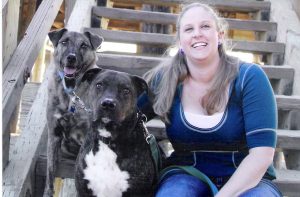 Previously named Charlee, Amber was named in honor of a local woman named Amber Skall, who tragically succumbed to cancer at the age of 33 on February 10, 2016. Amber grew up in a family of public servants and was very proud to serve her community as a 911 Public Safety Dispatcher for the Ventura Police Department (VPD) and as a Tactical Dispatcher for the VPD SWAT Team. A dog lover and "mom" to her three rescued pups, Amber's smile, courage and sense of humor never wavered despite the challenges she faced, and she is missed greatly by her family and friends. We are honored to pay tribute to Amber Skall's legacy by naming one of our own after her.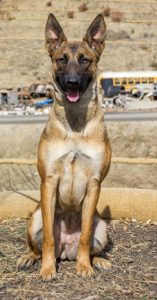 "As a dispatcher, Amber was a lifeline for many in the midst of a crisis, just as Amber the Search Dog will be. Strong, spirited and courageous, she shared her laughter and lively personality with all of us. Thank you again…Words could never convey how touching and special this is."
                                                                                                      -Karen Skall