A Georgia peach with endless energy and a "bull in a china shop" may seem like an unlikely pair but at SDF's National Training Center, Georgia and Willy are proving that they can put their personality quirks to good use!
GEORGIA
Discovered at Union County Sheriff's Office Animal Control in Blairsville, Georgia, this vivacious pup is winning hearts on the West Coast! Animal control officers had picked her up as a stray and she had no name, so we felt the name "Georgia" seemed fitting as she is the first dog SDF has ever recruited from the state of Georgia! A one year-old German Shorthaired Pointer, Georgia was identified by SDF Canine Recruiter, Greg Strickland, who is also a Canine Handler for Florida Task Force 1. Greg easily described Georgia in just one word: "FAST!"
She's now been in SDF's search and rescue training program for several weeks and shows no signs of slowing down!  In fact, SDF Trainer Lyz Gregory says,
"Georgia is a dog that we have to try and slow down daily because it's important to make sure she's retaining the lesson we just taught; not just breezing right through it. But she is coming along very nicely and has an incredibly sweet temperament. I am confident that she is going to do great things in this field."
Georgia is right on track and scheduled to be partnered with a Handler in the fall!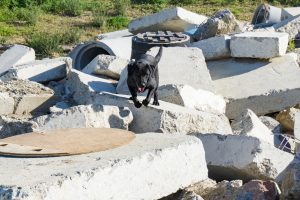 WILLY
Willy had been purchased by a young family when he himself was a puppy. When the couple's child became old enough to walk, Willy's enthusiasm and high energy became too much for them to handle in order to keep the toddler safe. They surrendered Willy to Forever Home Dog Rescue of Mountlake Terrace, WA, in the hopes that he would find a more suitable home.
SDF Canine Recruiter Kirsten Fulk was in the area to evaluate several dogs for our program but had not yet seen any with Search Dog potential.  Kirsten said,
"As each dog failed (evaluation), I was beginning to think I would not find a hero that day. As I was waiting in the dog yard to meet the last dog I heard a shelter staff member yell, 'Here he comes. He pulled the leash out of my hand!' At about the same time a beautiful one year old black lab came zooming around the corner and almost knocked me over! I was pretty sure at that moment another hero had been found and I was right!"
Willy (in all his exuberance) is expected to graduate this summer!