Meet two of our canine candidates in training: Fender and Delta! SDF trainers say these two beautiful canines are fun to work with and moving through the program quickly. We expect to see them both graduate later this year so keep your eyes out for more updates on these superstars!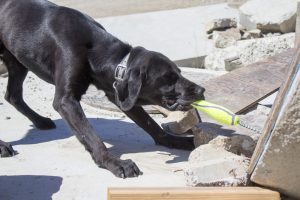 FENDER
Fender was discovered at Southern Oregon Humane Society in Medford by SDF Canine Recruiter Kirsten Fulk last December. We don't know why Fender ended up at the shelter but we sure feel like it is our good luck! The tall Black Lab is a natural! From Day 1, SDF Canine Trainer Emily Fisk told the rest of staff, "He is more than happy to bark. VERY LOUD bark! WOW!" The trainers allowed Fender to select his favorite from a variety of toys laid out before him. Now searching on the rubble, Fender is having a good time using those strong vocal chords to alert the trainers that he has located a live person in the rubble, which means he gets a fun game of tug as reward. We look forward to watching Fender's personality continue to unfold new challenges and laughter!
See Fender try to choose his favorite tug toy: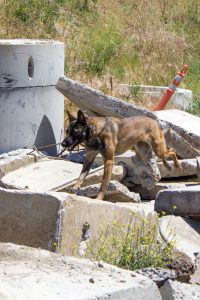 DELTA
Delta joined our Search & Rescue training program in February and is an incredible athlete! A young Belgian Malinois, Delta flies over rubble with grace and ease. It was her owner, local to the NTC, who contacted SDF about evaluating Delta for this line on work. Due to life changes, the owner did not have the time to dedicate to a dog, but it is clear that she did a wonderful job raising Delta, as she is well-mannered and a lot of fun! The owner explained to SDF staff at the time, "Rather than give her to a shelter or place her with a family that might not be a perfect match for the type of dog that she is, I would prefer to  find her a new home where she can have a true job and fulfilling life." Delta's doing wonderfully in the program and the previous owner comes by occasionally to watch her train. We expect Delta will graduate later this year and we'll continue to keep these two in touch, regardless of where Delta is stationed. We give accolades to this woman for sacrificing her time with Delta in order to give Delta and the nation a precious gift!