"Jakers came out of his kennel bouncing like a rabbit!" remembered Julie Haslam, one of SDF's outstanding volunteers at the time who canvassed shelters looking for the few special dogs with the rare qualities it takes to become a Disaster Search Dog.
"I showed him a toy and his eyes locked onto it as if he had been searching for it his entire life. Once outdoors, I opened an umbrella suddenly to see if Jakers would react with fear or curiosity, and he yanked it from me and shook it to show that umbrella who was boss. Then I tossed a toy into the bushes to see if he was willing to keep searching for the toy with other distractions going on. He leapt into the middle of a bush and refused to leave. Preliminary test: Passed with flying colors!"
After being surrendered to El Dorado County Animal Shelter by a family that could no longer keep up with his exuberance, Jakers was on his way to SDF's formal training program at Sundowners Kennels in Gilroy, CA.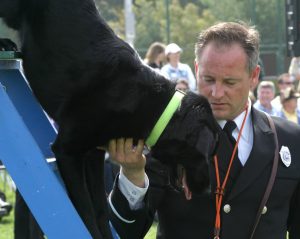 Upon graduation from Search Dog training in January of 2006, Jakers was partnered with Jeff Ivy, a firefighter with Sacramento City Fire. They were one of the new Sacramento teams on California Task Force 7 that would follow in the footsteps of SDF's founding teams, who were scheduled to retire in 2007. Jeff and Jakers were instant friends who developed a great partnership. One look at those big eyes and the floppy ears cocked in continual curiosity, and you could see why Jeff felt the way he did about this exceptional dog.
Jeff told us early on in their careers, "Jakers brings me incredible joy, and working with him is a labor of love. Jakers shows lots of promise in training – he hasn't had one false bark alert, and is working on multiple victim searches. His concentration and drive are amazing. If I accidentally throw his toy into a tree, Jakers climbs the tree to get his toy. When serious training is over for the day, he's quite a goofball. Once, at the firehouse, my Chief commanded Jakers to 'bed.' Jakers ran and jumped onto the Chief's bed and made himself comfortable."
Thanks to Julie's keen eye in finding this exceptional dog and Jeff's dedication to his new partner, Jakers now had a job, a purpose, a partner, and was surrounded by people who appreciated his over-the-top enthusiasm for life.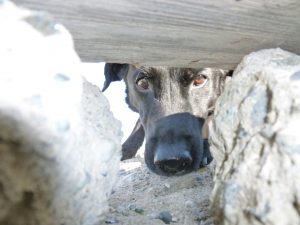 Jeff and Jakers first achieved FEMA Certification in January of 2007, enabling them to deploy to disasters throughout the U.S. The team then Re-Certified in December of 2009 in Sun Valley, CA and again in October of 2012 in Virginia Beach, VA, in order to maintain their deployment-readiness.
On the morning of July 5, Jeff & Jakers, along with teammates Tim Robertson & Speaker, received a call to deploy to a local house search in Sacramento. About one hour earlier, a natural gas explosion had destroyed the home, injuring four Sacramento City firefighters. Jeff was on duty that day, and was dispatched to the scene where he found four of his fellow firefighters had sustained burns to their hands and faces during the explosion. After taking one of the injured firefighters to the hospital, Jeff & Jakers drove back to the scene to meet Tim & Speaker and performed a search of the building.
Tim remembered, "There was a sinking feeling in my heart knowing that Firefighters had been hurt. Also, knowing that this was a residential area, there were many unknowns to deal with." The handlers set to work with their canine partners, and after just a few minutes of searching the remains of the structure, Speaker and Jakers confirmed that no other firefighters or civilians had been buried beneath the rubble of the damaged house.
When fatal mudslides devastated communities in Oso, WA, there were many Search Dogs on scene hoping to bring survivors to safety. Though not called in to help immediately, the Sacramento task force was requested to assist with recovery efforts. Jeff and Jakers, up on rotation with several teammates, deployed to Washington state to help. Jakers did not have the opportunity to search but he stood by, ready to lend paws as needed.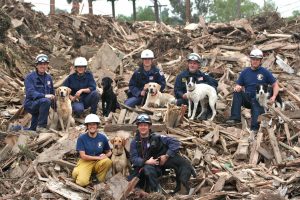 Jeff and Jakers continued, as they always had, to train diligently with their teammates so that they would be always be ready in the event of another disaster. On October 31, 2015, Jakers retired from his Search Dog career at the age of 11. He stayed at his best friend Jeff's side and spent his remaining years as a beloved family pet in the Ivy home.
In the spring of 2017, Jeff wrote SDF a touching letter to express how much Jakers has meant to all who knew him, and to thank the SDF donors that make it possible for SDF to do what we do, and train these wonderful canines for the fire departments and task forces:
"I wanted to write this letter to be passed on to the donors that donate and continue to support such a selfless organization. I received K-9 Jakers, who is trained to seek out live human scent, in 2006. I didn't realize then the investment needed to produce a K-9 to this caliber. I admit I was selfish then, not realizing the gift that had been provided to me.

The years went by and while Jakers and I had a few what we call 'jobs,' what I didn't realize was the impact Jakers made every day. Jakers as you know is very sick and his life is coming to an end and, while I reflect on years of memories I have with Jakers, I have also been getting phone calls and emails regarding what Jakers did for them over the years. I have had many firefighters come to me and say when on shift they felt it was Jakers who kept a calm presence in the fire station and they were able to decompress and have a good distraction from the calls. I also received a message from someone who even said there were times when he felt suicidal from this job and that having Jakers in the firehouse for 48 hours at a time, it gave this person purpose and reason for living. I had no idea what an impact a disaster search dog can have on so many people. Jakers, in living to be ready for a disaster at any given moment, really never went off the clock; Jakers' loyalty was all day, every day.

I would like to end on this – A big Thank You to the men and women and organizations that contribute to the National Disaster Search Dog Foundation. The K-9's, while very well prepared for a disaster, provide even a bigger service to the Men and Women of the fire service. The service I speak of is silent and without fan fair, but because of your donations and commitment to the National Disaster Search Dog Foundation, the disaster search K-9 helps with mental health to the members of the organization in which the K-9 is attached. The value of the National Disaster Search Dog Foundation is priceless and while the staff work so hard to provide these valuable assets for us, the big thank you goes to the donors who work so hard and commit to helping fund, in my opinion, an even bigger calling."
On May 4, 2017, Jakers peacefully crossed the Rainbow Bridge, but not before his task force, firefighter, and civilian families gave him a loving goodbye.  Jakers will be cremated and the ashes spread in Pismo Beach since he loved the beach so much.
See the loving tribute created by his Task Force teammates here.