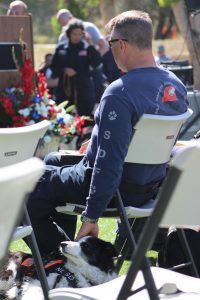 Among the many success stories of High Sierra Animal Rescue in Portola, California is the tale of Zoey, an energetic Border Collie who overcame seemingly insurmountable odds to become a National Disaster Search Dog Foundation Search Dog.
Born in July of 2003, Zoey's owner abandoned her when she was only one year old. When the High Sierra staff found her at the Lassen County Animal Shelter, she was weak and neglected with sore paws and a sad demeanor. She was scheduled to be euthanized in one hour.
The staff saw a special spark in Zoey – high-energy and drive – qualities that are essential for a Search Dog.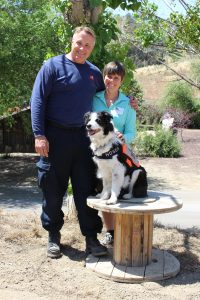 "We're learning to spot the dogs that really need a job," said Karen Neeley, High Sierra's Executive Director at the time. Believing that Zoey would be an ideal candidate for Search and Rescue work, Karen arranged to have her tested by SDF Lead Trainer Pluis Davern. Although she was still recovering from her stay at the shelter, Zoey braved the five-hour drive to Pluis' kennel, was immediately put to the test, and passed with ease.
Zoey did well during her time with Pluis at Sundowners Kennels. She certainly had the drive, energy, and focus required for the advanced and rigorous course. After months of canine boot camp, Zoey was ready to be partnered with a handler.
"I don't know how to explain how I felt the day we were going to be matched with our dogs," recalled Jason Cornell of the Sacramento Metro Fire Department. "It was like the first day of school and Christmas morning all rolled into one. There was so much excitement – this had been so long in coming."
The handlers went to an open yard, and a Sundowners Kennels assistant brought the dogs out one by one. When it was Zoey's turn, the assistant brought her out and let her off the leash to meet her potential handlers. "Zoey made one big circle around the whole group of new handlers, then made a beeline straight for me and put her head in my lap," Jason remembered fondly.
"No question about it," said Pluis, "Zoey had chosen her handler!"
Zoey left Sundowners with Jason and joined his family in their Sacramento area home. They continued to build their bond while training daily in preparation for their Certification Evaluation through the Federal Emergency Management Agency (FEMA), which would enable them to deploy nationwide when disaster strikes. In January of 2007, Zoey and Jason achieved FEMA Certification, which is the highest level of certification recognized in the United States.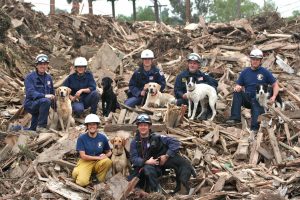 In September of 2009, High Sierra Animal Rescue held an open house at their facility in Portola. Zoey, Jason and several other SDF Handlers went to the event along with SDF staff. When reflecting on the event and the importance of the mission of turning rescue dogs into rescuers, SDF Executive Director Debra Tosch at the time said, "To ensure that small miracles like this continue to happen, we're working closely with our animal shelter partners throughout the state, cultivating new relationships and nurturing a new generation of talented, dedicated handlers who can offer these dogs the safe, happy and productive life they deserve."
In November of 2010, Zoey and Jason made the trip to New York to take their FEMA Re-Certification test, which the pair passed with flying colors.
When her certification ran out three years later, Jason decided to retire Zoey, who was by then over ten years of age. Zoey remained in the Cornell home for the remainder of her life, as a beloved family pet rather than a working dog. On March 19, 2018, Zoey crossed the Rainbow Bridge at nearly 15 years of age after suffering a debilitating stroke.
We are immensely grateful to Jason and Zoey for their years of service and dedication to California Task Force 7, the Sacramento Metro Fire Department, the Search Dog Foundation, and the nation.