Trapper, a very muscular Yellow Lab with an outstanding personality, spent five days in the late summer of 2005 working in the devastation left behind by Hurricane Katrina along the Gulf Coast of the U.S.
Deployed to Mississippi with his handler, Marshia Hall, as part of Florida Task Force 4, Trapper's job was to search residential subdivisions in Pascagoula, Gautier and Biloxi. Having graduated only a year before from Search Dog Foundation (SDF) training program in Gilroy, CA, this was Trapper's very first deployment.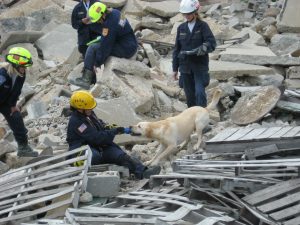 "I am extremely happy with his performance in Mississippi," said Marshia at the time. "It was his first deployment and he did so well." Marshia explained that when she and Trapper arrived in Mississippi, the area looked like there had been a huge explosion – a cross between a landfill and a lumber mill. It was simply a river of debris, and you couldn't tell where one house began and another ended. Toys, both pet toys and children's toys, were scattered everywhere. "Trapper is a very toy-driven dog, but he never lost focus, never became distracted when looking for people trapped. He continued to work the whole time," said Marshia.
Trapper and Marshia worked twelve-hour shifts going into homes and cars that were partially collapsed — any place where there was a chance that people had survived. Trapper either walked on top of the debris trying to pick up a scent or went directly inside the pile. Marshia said that the training Trapper received from the Search Dog Foundation gave him the skills he needed to do his job. He had the agility to maneuver over extremely difficult terrain, including unstable and slippery surfaces.
Marshia and Trapper truly proved how well an SDF team could work together. Trapper could search the devastated areas much more quickly than any human could. He could also penetrate debris and small spaces which would have taken rescue workers ages to access. Meanwhile, Marshia was very diligent about caring for Trapper in such a dangerous environment. There was a real risk posed by contaminated water. According to Marshia, the SDF training paid off again in this regard. The dogs are trained not to touch any water or food they may come across while searching. Still, when a dog is very thirsty and tired, instinct may prevail. So, Marshia kept a very close watch on Trapper, looking for signs of overheating or thirst.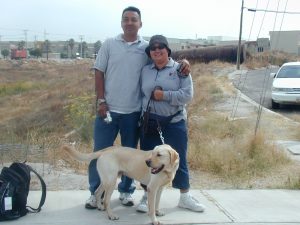 Trapper originally came to the Search Dog Foundation by way of Guide Dogs of America (GDA) in Sylmar, CA. Judi Gomez and Miguel Ola raised Trapper (then known as "West") for GDA. When Trapper was released from GDA for having too much energy for their companion program, Judi and Miguel made the decision to find another career for Trapper. GDA Trainers felt that Disaster Search work would be a good match. During the month before his official transfer to the SDF program, Trapper was enrolled in agility classes.
GDA training and Disaster Search Dog training are very different. GDA trains their dogs to not bark, to walk around obstacles, and to not climb on anything. However, those discouraged activities are very important skills for search and rescue dogs. Judi felt that taking Trapper to agility classes would give him permission to jump onto and through obstacles. What motivation did Judi and Miguel use for these tasks? A hot dog. Marshia says that to this day, Trapper "will do anything for a hot dog."
Marshia learned a great deal about Trapper's upbringing, habits and personality from Judi and Miguel. They even provided her with an album of Trapper's puppy pictures. Marshia says this information helped her very much in her training with Trapper. For example, in his photo album, there was a picture of Trapper sleeping with a group of cats. Marshia said that showed he did not have an issue with felines.
Miguel and Judi also drove Trapper, along with another GDA career change dog to Ojai for their candidate test with Miki Klocke, an SDF staff member at the time, and then to Sundowners Kennels in Gilroy to begin SDF training once he was accepted. Judi and Miguel always looked forward to Miki's progress reports on how Trapper was doing during his training in Gilroy. Judi said, "Yes, these reports also went into Trapper's baby and family album". Judi and Miguel even traveled to Florida and Baja California to watch Marshia and Trapper train.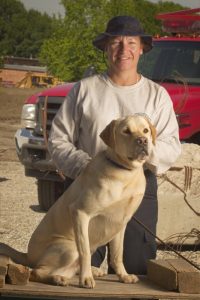 A firefighter with Temple Terrace Fire Department in Florida, Marshia Hall was partnered with Trapper in July of 2004. During her first week of training with Trapper at SDF's Handlers Course, Marshia quickly got a taste of Trapper's personality and character. She said that Trapper had a lot of focus, drive and energy and was very affectionate. Every night during the Handlers Course when she and Trapper would return to the motel, this playful, seventy- pound dog would head right for the bathtub and just stand there as if to say, "OK, you can turn the water on now." Marshia said that Trapper loved water so much, he would try to get into anything that had water – even a flowerpot or paint can.
Trapper was a "pool puppy" growing up, which could explain his fascination with water. Marshia lives near the beach in Florida and regularly took him there for his swimming fix. One of their first trips to the beach strongly demonstrated Trapper's intense play/toy drive. When arriving at the beach, Trapper quickly spotted a buoy about 75 yards out in the water. Thinking it was a toy, he intently swam for it. Marshia said, "I had to bring him back three times, and he fought the whole way. I was exhausted! The final time he actually got to the buoy and had brought it back a good distance towards the shore before I was able to wrestle it from his jaws. He was having a high old time!"
Over the years, Marshia and Trapper deployed as members of either Florida Task Force 4 or Temple Terrace Fire Department to:
·         Missing Person Search – Claremont, FL – May 25, 2015
·         Missing Person Search – Temple Terrace, FL – May 17, 2014
Missing Person Search – Temple Terrace, FL – October 12, 2012
Parking Structure Collapse – Jacksonville, FL – December 6, 2007
Tornado – Lake County, FL – February 3, 2007
Hurricane Wilma – Florida – October 23, 2005
Hurricane Katrina – Missouri and Louisiana – August & September 2005
Hurricane Ivan – Florida – September 17, 2004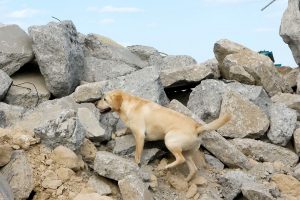 Each search came to an end only once all persons were accounted for and the team was able to ensure that no one was left behind.
Trapper officially retired as a Search Dog on May 27, 2015 to spend his remaining years happily with his best friend Marshia and fellow Search Dog Lilah.
At 15 years of age, Trapper peacefully crossed the Rainbow Bridge on June 22nd, 2017. A space is reserved for Trapper at SDF's Canine Memorial Wall, dedicated to all of our canine heroes in order to ensure that they will not be forgotten.