Tanker came to the Search Dog Foundation in an unusual way. Formerly known as "Tank," this beautiful Lab was donated to the Search Dog Foundation by his previous Handler, Adam Cooper, of Colorado Task Force 1, in the fall of 2011. Adam and Tanker had not yet certified together and Adam felt that Tanker would perhaps be more successful with another handler. Adam approached SDF Executive Director Debra Tosch at a Certification Evaluation in Colorado and offered this great canine to SDF.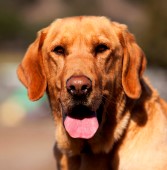 At 4-and-a-half years old, Tanker was older than the average canine candidate we admit to our training program. But when Debra tested him, he did a fabulous job. Since he already had some training and showed great potential, Tanker was admitted into the program, knowing that he would graduate and be out in the field more quickly than a green dog. Debra described watching Tanker on a rubble pile during his initial testing: "He was excited, agile, and when he got scent gave a very quick, solid alert at the tube. He was beautiful to watch."
Two weeks later, Tanker was on an airplane with SDF Canine Recruiter Lyz Gregory, being transported to Sundowners Kennels for formal training the SDF way. It was great that Tanker already had Search and Rescue experience, but now the SDF trainers had to teach him SDF hand signals and verbal commands.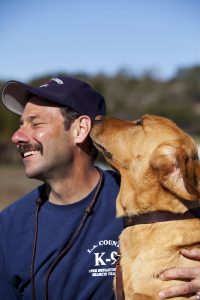 Three-and-a-half months later, Tanker was partnered with veteran SDF Handler Gary Durian of Los Angeles County Fire Department on January 17, 2012.
Gary and Tanker trained intensively to learn to trust one another and work together as a solid team. The team traveled to Littleton, MA in June of 2012 and achieved FEMA Certification, which allows them to deploy to disasters around the world as members of California Task Force 2 (CA-TF2).
As a Certified Disaster Search Team, Tanker and Gary deployed on the following missions:
June 20, 2014 – Missing Person Search – Fillmore, CA
August 4, 2014 – Mudslide – Mt. Baldy, CA
March 16, 2015 – Vehicle Crash – Mt. Baldy, CA
April 26, 2015 – Earthquake – Kathmandu, Nepal
December 17, 2016 – Tree Collapse – Whittier, CA
September 19, 2017 – Earthquake – Mexico City, Mexico
The team was a well-respected and valuable resource to their task force. They were great to watch together and SDF was always happy to welcome them back to the National Training Center to work with CA-TF2 or to visit with Tanker's many supporters.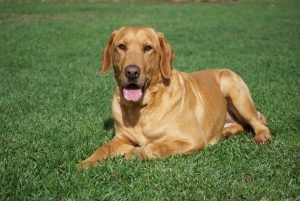 Gary was preparing to be paired with a SDF-trained new canine partner – his third – in January 2018, at which time he would retire Tanker. Sadly, Gary awoke on the morning of December 17, 2017 to find Tanker lethargic and, knowing something was clearly wrong, took him to a veterinarian immediately. Unfortunately, after running a few tests, they discovered that Tanker had fairly advanced cancer of the spleen.
Though he hadn't shown discomfort prior to that day, Tanker's diagnosis was extremely poor. After discussing the options with his veterinarian and our Trainers, Gary made the difficult decision to do what was kindest to Tanker, and said goodbye to his friend and partner of five years.
Tanker touched the lives of everyone he met and the unexpected news of his crossing the Rainbow Bridge was very difficult to bear. We are grateful for the time we had with Tanker and for his service to our country and the world.