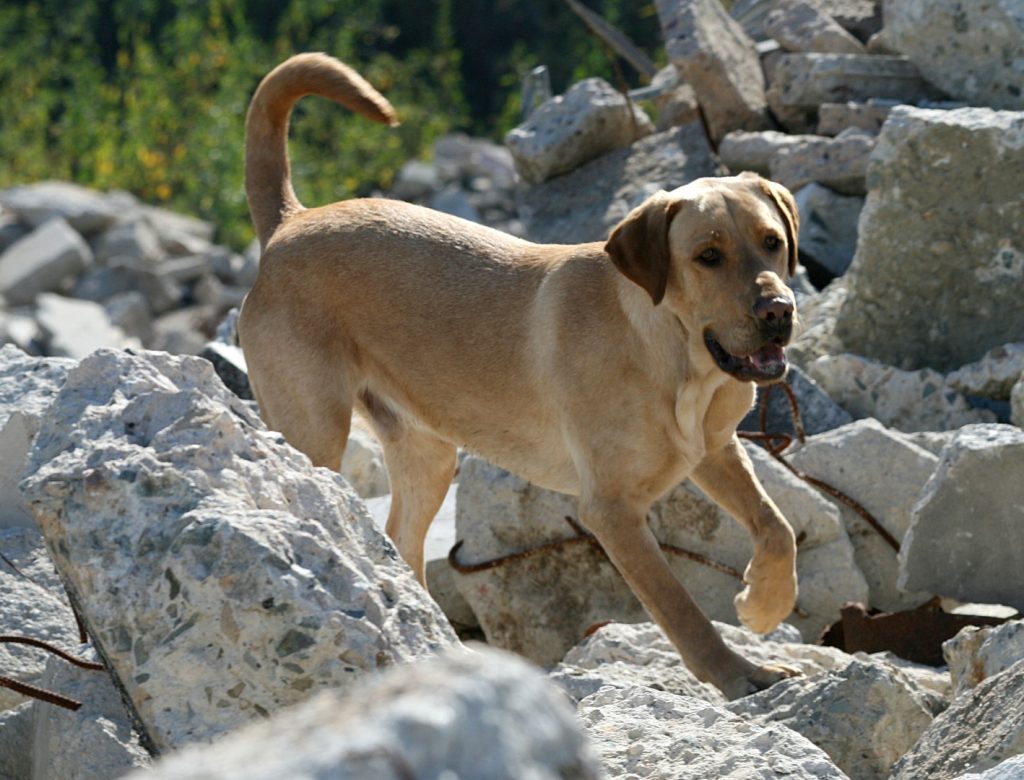 When Kim Thompson, Adoption Coordinator at the Butte Humane Society in Chico, California, first met Spuds (a.k.a. "Potato Head") in 2007, she saw his non-stop drive, intensity, and athleticism. She sensed that despite this young Yellow Lab's goofy awkwardness, he might have what it takes to become a working dog, and she called the National Disaster Search Dog Foundation (SDF).
Karen Klingberg, SDF's Canine Manager at the time, went to Chico to meet Spuds, but was uncertain about what she saw. "Here came this great big gangling Lab, with a big funny-looking head. But after testing him, I was impressed by his drive and tenacity – he just wouldn't give up! He's a very powerful dog. I knew he had potential."
Renamed "Spuds," the new search dog candidate began training the next day at Sundowners Kennels in Gilroy, CA under the watchful eye of SDF Trainer Pluis
Davern. He spent several months working with Pluis to learn the skills necessary to be
successful in the field of search and rescue – focusing that incredible drive into the ability to identify and locate live human scent, balancing while traversing shifting surfaces, and understanding verbal, hand and whistle commands.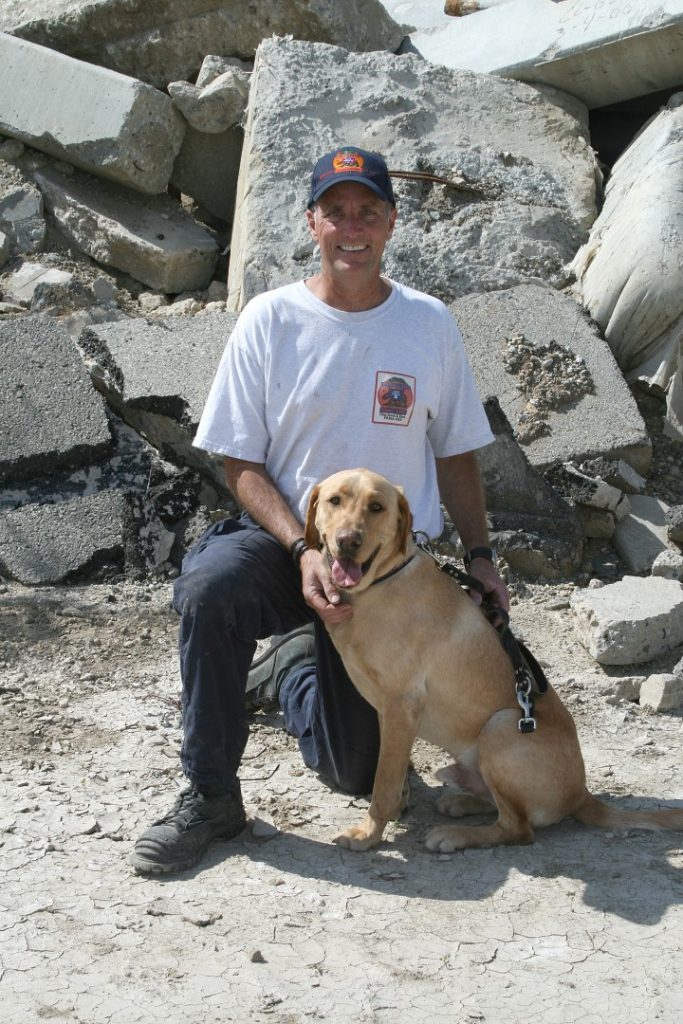 Rick Bartlett, Captain and Paramedic with the Orange County Fire Authority, began training as an SDF Handler in August 2007 and when the timing was right, went to Gilroy with fellow task force teammates to be partnered with a search dog. Based on their compatibility and how Spuds responded to Rick when they met, Pluis chose to partner them on the spot.
Rick said he immediately felt a bond with Spuds and sensed that they had what it takes to be a great team. In October of 2007, Rick spent two weeks fighting the fires that raged over the Southern California area, and was unable to train with Spuds as much as either one of them would have liked. In November, Rick brought Spuds home to from Gilroy to Leucadia, CA.
From that moment on, Spuds and Rick trained almost daily. They honed their skills, and the hard work paid off – in May of 2009, Rick and Spuds achieved Federal Emergency Management Agency (FEMA) Advanced Certification that would allow them to deploy with California Task Force 5 to disaster areas anywhere in the nation. In order to maintain their active status, teams must Re-Certify with FEMA every three years, and so in May of 2012, Rick and Spuds journeyed to Indianapolis, Indiana and again passed their Certification Evaluation with ease.
After a lengthy career together, spending nearly every moment together, Rick made the decision to retire his canine partner and friend of 8 years on March 27, 2015. Spuds easily transitioned to the less strenuous lifestyle as a pet in Rick's home.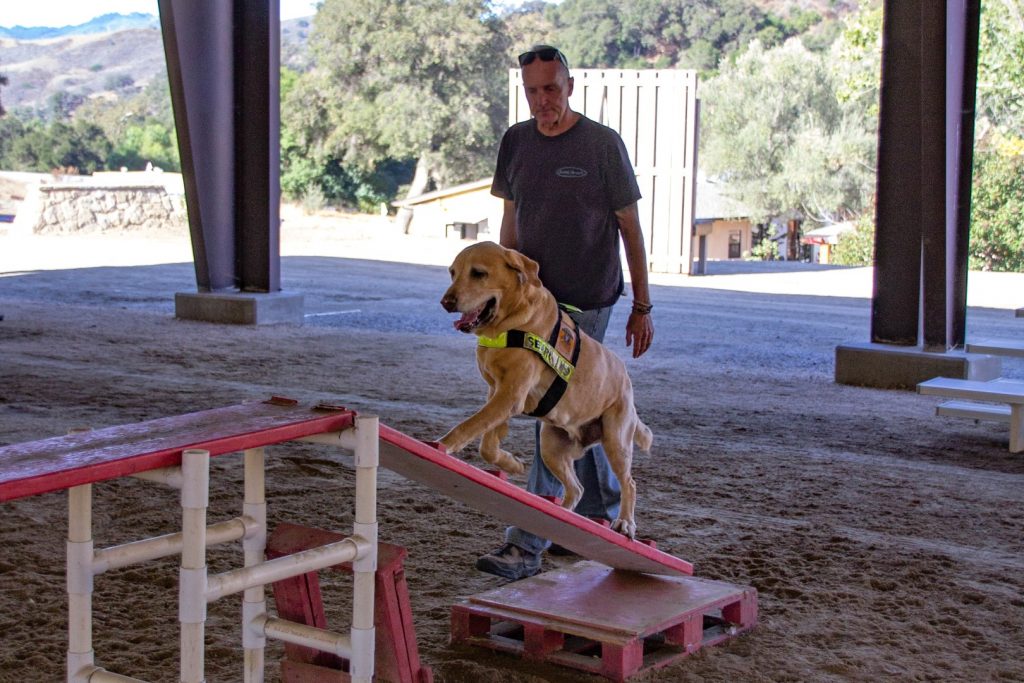 During that time, we saw Rick and Spuds several times, including trips up to Santa Paula for the Grand Opening of SDF's new National Training Center in 2017. Rick updated SDF staff for years that, like so many of our Search Dogs, Spuds' body was aging but his mind was sharp and desire to hunt remained strong. It can be difficult to get these amazing creatures to slow down.
Spuds survived several concerning illnesses to live to nearly 13 years of age, when he finally succumbed to complications caused by a brain tumor on January 4, 2019. Rick wrote to us, "I am heartbroken to tell you that we put Spuds to rest last night. He started having multiple breakthrough seizures and the meds could not help the big dog. My words cannot express the gratitude I have for the Search Dog Foundation to allow me the opportunity to have such a wonderful being in our lives. He was so much to me. He was sweet, gentle, agile, strong, smart, loving, handsome, charming, eager to please, play and Search. A hero among dogs. THANK YOU ALL"
We are grateful to Rick and Spuds for their dedication to their California task Force 5, Orange County Fire Authority, and the canine program. The team's hard work ensured that if the call ever came, they would be ready to help those who needed them most. Thank you, Rick and Spuds.