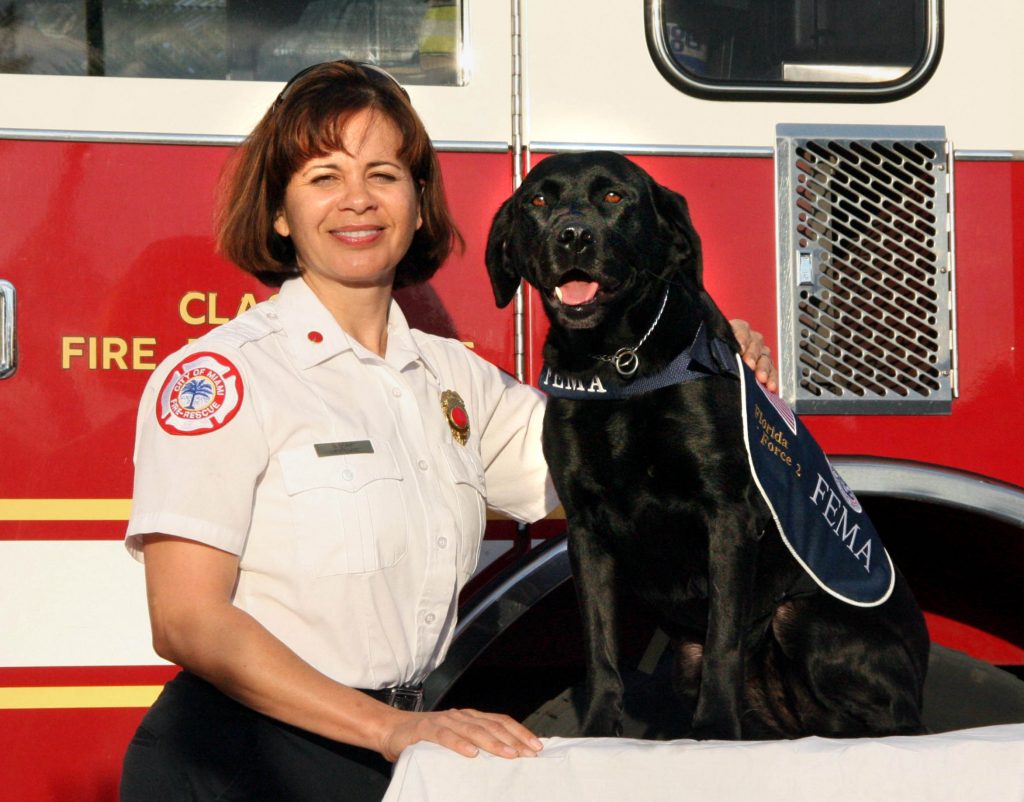 Splash was a smart, sweet, Black Labrador Retriever, donated to the Search Dog Foundation (SDF) by Labyrinth Labradors, run by Colorado breeders Carolyn Tremer and Brant Rosten.
Shortly after her birth on October 1st, 2002, Splash began her journey of becoming an SDF Search Dog. Her first stop was at the SDF Prep Home of Sue and Wayne Andrew. Here, Splash rehearsed basic training in obedience and socialization. Describing her as a friendly dog with an "incredible eagerness to learn,"the Andrews enjoyed taking Splash to places like Lake Arrowhead and Big Bear Lake, where they got in lots of swimming.
Not only was Splash a hard worker, but she also exhibited quite a unique characteristic while living with her Prep Home family. When home alone, Splash would always bring one item from the house and leave it on the floor near the front door for her family to find. One time, the Andrews found a glass near the front door, another time a phonebook, and another time a button. Confused by the items they found after each outing, the Andrews did some experimenting. They quickly discovered Splash would always bring to the front door the last item they had touched before leaving!
Splash, with her friendly nature, was excited to attend weekly SDF training courses. Sue and Wayne took pride in dressing Splash in her SDF training vest whenever they were out and about in public. People frequently asked about Splash's attire, and Sue and Wayne loved to talk to them about her unique life as a Search Dog-in-training.
At an appropriate and more mature age, Splash left the Andrews' home in early 2004, and began six months of formal Search Dog instruction at Sundowners Kennels, SDF's-then training facility in Gilroy, CA. Lead trainer Pluis Davern and her staff guided all SDF dogs through a training program they specifically designed for Disaster Search Dogs.
Through the SDF training program, the Search Dog candidates learn how to climb over unstable and uneven surfaces, distinguish a live "victim" scent from other scents (including all other animals), and to signal with a "bark alert" when they have found a victim buried in rubble. Splash did well during her training, as she had the drive, energy and focus necessary to make it through this advanced and rigorous training course.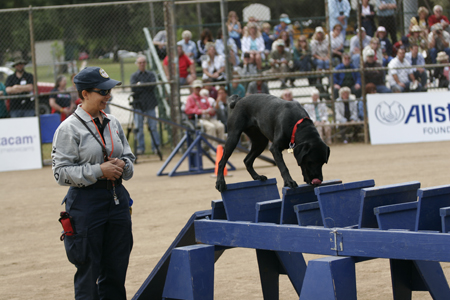 After completing her formal training in July of 2004, Splash was partnered with her new handler, Daisy Soto-Spira, a firefighter with the City of Miami Fire and Rescue and member of Florida Task Force 2. Bonding immediately, Daisy described Splash as "very loveable."During their first week of training together, Daisy learned first-hand about Splash's unique talent for bringing the last item touched by her to the front door.
In 2005, Splash was generously sponsored by Anson Nichols of New York. All across the nation, individuals, families, schools and companies have made donations to SDF to sponsor a Search Team. Sponsorships give SDF-trained Search Dogs active, happy and secure lives in service to America. We are grateful to our sponsors, like Anson, who help SDF to strengthen disaster response in America.
Thanks to people like Anson, Daisy and Splash responded to help people on the East Coast in 2005, one of the most destructive and deadly hurricane seasons to ever strike the U.S. The team specifically assisted after Hurricane Wilma swept through their home state of Florida. She was one of the most intense tropical cyclones ever recorded in the Atlantic basin and after making landfall, dozens lost their lives and thousands lost their homes and personal property. Three other SDF-trained teams worked alongside Daisy and Splash, searching for missing citizens for days. They were able to head home knowing they had done their best to help.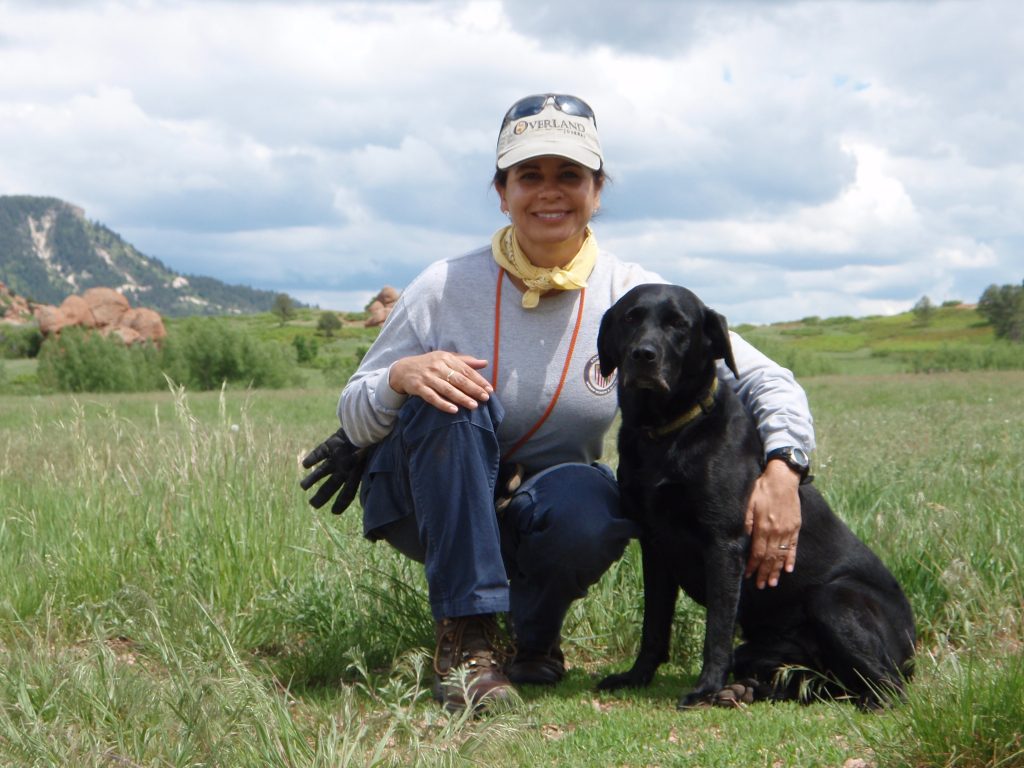 Daisy and Splash continued to train together every day. In March of 2006, they passed their FEMA Certification Evaluation and became eligible to deploy to disaster zones anywhere in the nation. The team maintained their deployment status by Re-Certifying in March of 2009.
The two worked with their task force teammates for several more years until Splash retired in 2012. She remained a member of Daisy's family and enjoyed her retirement years in their home. Splash never lost that sparkle in her eye or the ability to make your heart melt. She was a very special dog and completely devoted to her best friend Daisy.
On November 6, 2018, Daisy gave Splash farewell kisses. At the age of 16, Splash comfortably crossed the Rainbow Bridge. We are grateful to Splash for her service to the nation, and to Daisy for providing her a wonderful lifestyle, doing the job she seemed born to do. We will miss you Splash.
Researched and written by SDF volunteer Kelly Frazer and edited by Kate Horwick