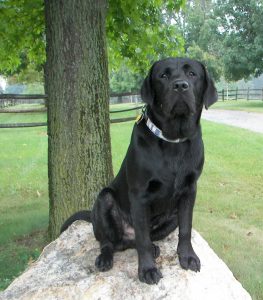 Everyone who has ever met Rico has seen his tremendous potential and had great expectations for this playful Black Labrador. Originally named Recon, he was born into the Guide Dogs of America (GDA) program on December 8, 2006. By the end of 2007, it had been decided that while Recon wouldn't be a Service Dog, instead he had excellent potential to help people in another way – as a Search Dog.
Rico had a lot more on his resume than most Search Dogs when they arrive at Sundowners Kennels in Gilroy, CA. In addition to his obedience training, he had worked with special needs children, visited retirement and convalescent homes and been on a road trip through the Midwest.
With the Search Dog Foundation, Rico found his true calling. "He's a charming dog with a great 'On/Off' switch," said SDF trainer Kate Davern. "He's a monster on the search, willing to try anything. When the search is over, he's a nice guy to have around."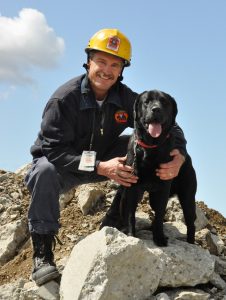 In 2008, Rico's training at Sundowners was complete and he was paired with Firefighter Marc Valentine of the Montebello, CA Fire Department. High expectations were held for Rico, as he soon would be replacing Marc's retiring Search Dog, Val. Marc and Val had responded to numerous disasters over their 12-year career, including searching for survivors of Hurricane Katrina and a fatal mudslide in La Conchita, CA.
After being paired with Marc, Rico lived and trained alongside Val, and both dogs went with Marc to the fire station every day. "The dogs are as much a part of this station as anyone," said Marc.
In October of 2010, Marc and Rico passed their Federal Emergency Management Agency (FEMA) Certification testing in Seattle, WA and Marc immediately retired Val, at the time the nation's oldest working Search Dog. "Now that Rico is certified, I will let him do the heavy work," said Marc. "But Val's coming to work with me always." Over the years, Marc built a bond with Rico as strong as he had with Val.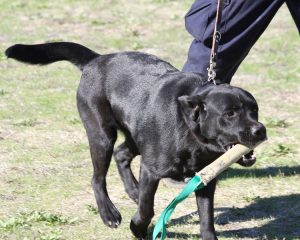 A few months after Certification, Marc and Rico deployed to a building explosion in Los Angeles and determined that no survivors had been left behind. They worked together side by side for a decade until Rico retired on September 30, 2016. He remained Marc's constant companion until, sadly, Rico unexpectedly crossed the Rainbow Bridge on February 23, 2018, of what we believe was a heart attack. Rico will be greatly missed by all who knew him and we are forever grateful for his service to the nation.