With a background like his, it was only a matter of time before Jason Geary would become a Search Dog Handler.  It seemed that Jason Geary and Marsi the Yellow Lab were destined to be a team.  So much so that Jason recalled how quickly Marsi took to him when they were paired at the SDF training facility. "Right after we met the dogs at the kennel, she draped her legs across mine and crawled up onto my lap as if she knew… 'This is the guy I'm going to work with.'"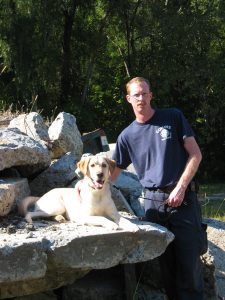 At the time, Jason was a full-time firefighter with the City of Cohoes, NY. He was also an EMT and a New York State fire instructor, teaching at the NYS Fire Academy near Watkins Glen, as well as teaching regional programs throughout the state. As if that weren't enough, Jason was also a volunteer firefighter for the Maplewood Volunteer Fire Department in the Town of Colonie, NY.
His career journey started in 1999 near Albany, NY. He began working as a firefighter after interning for the New York State Office of Fire Prevention & Control. That same year, he became involved with the New York State Regional Response Team, rapidly progressing to achieve the title of Logistics Specialist.
Two years into his career, the World Trade Center was attacked on September 11, 2001.  Jason was called upon to work at Ground Zero with the first USAR team organized on-site.  He spent five days there, primarily conducting technical searches: using cameras and listening devices in different sectors of the site.
It is no surprise that working at such a scene would be life-changing for anyone, but for Jason and the team, there was a very palpable tragedy within the tragedy. Several of the first responders that were killed had been their instructors and "taught them everything they knew." Jason shared, "It was something that was really close to the heart for our team because a lot of the guys that were lost there were our instructors and mentors." One of those lost was Chief Ray Downey, Chief of Special Operations for FDNY (Fire Department of New York), who was one of Jason's instructors, and one of those most instrumental in starting the NYS Regional Response Team program that Jason had become so ensconced in.
Jason's past would eventually lead him right to SDF (albeit after a few years).  In 1999, he and another team member were approached by a colleague from the NYS Office of Fire Prevention & Control (the same group he had interned with). They wanted to know if Jason had any interest in working with Disaster Search Dogs and training to become a handler. Jason spoke to his chief, expressing great interest in the program.
In July of 2005, Jason and three other handlers from upstate New York traveled to Gilroy, CA and were each paired with an SDF Search Dog. Jason was partnered with Marsi.
The teams worked hard day in and day out, and Jason and Marsi achieved State Urban Search and Rescue Alliance (SUSAR) Certification for the first time in June of 2006. They went on to Re-Certify three times after their original certification, most recently in September of 2013.
During their 10 year careers, Jason and Marsi responded to the following calls:
May 2006 – flooding in Sullivan County, NY
June 2006 – flooding in Broome County, NY
June 2007 – building explosion in Albany, NY
June 2007 – flooding in the Catskills, NY
April 2009 – missing child search in East Glenville, NY
August 2011 – Hurricane Irene in Green County, NY
October 2012 – Superstorm Sandy in Long Beach, NY
June 2013 – flooding in Montgomery County, NY
November 2014 –snow storm in Erie County, NY
In addition to her deployments, Marsi and Jason also served as SDF ambassadors at many events including visits with our longtime partners at Young & Rubicam/GroupM. Marsi's loving personality was the perfect match for this type of "work" – she always had her signature Marsi "smile" while she and Jason traveled the country.
Marsi retired from NY-TF2 on July 30, 2015, at the age of 12! She spent her remaining years in the Geary home as a much-loved companion, finally crossing the Rainbow Bridge peacefully on July 7, 2017. The State of New York said goodbye with a full ceremony honoring Marsi's service to the nation.
See our tributes to all of our Search Dogs who have crossed the Rainbow Bridge here.