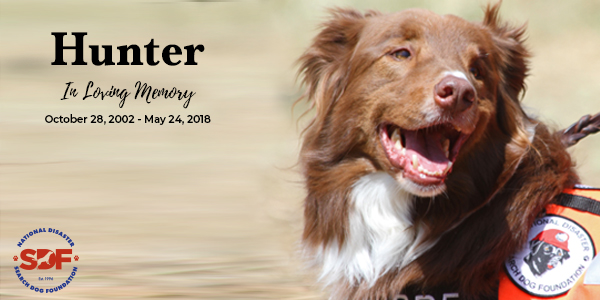 Hunter was a bundle of energy who couldn't wait to get to work every day with his handler Billy Monahan, a Captain with the Los Angeles County Fire
Department.
Because Billy and Hunter were located at an Urban Search and Rescue station, one of only two designated in Los Angeles County, they were in a prime position to respond when they were needed. And Hunter was always more than ready to show what he could do!
Hunter, a red-and-white Border Collie, was born on a horse farm in 2002. Although both his parents were black-and-white Borders, he inherited his coloring from his grandfather, who was also red-and-white. As a puppy, Hunter lived with Patricia Baldwin, who loved him dearly in spite of his tendency to chew anything and everything in sight. Patricia would take Hunter to a dog park to give him additional exercise. When he grew larger, Hunter followed his ancestral instincts and began herding the other dogs at the park.
Unfortunately, Patricia had to find a new home for Hunter when he was seven months old. She had learned about Sundowners Kennels in Gilroy, CA – SDF's kennel at the time – from a friend at the dog park and went to check out the facility. She was so impressed by the training provided to the dogs at Sundowners that she decided to donate Hunter to SDF to be trained as a disaster Search Dog.
Since he was a bit too young to begin search and rescue training immediately, he went to a prep home for about six months. Hunter was placed in the home of Kellee Matthews, an experienced volunteer who had a passion for the Border Collie breed in particular. Kellee describes Hunter as "an angel" who quickly adapted to his new home. As Director of Animal Care for Guide Dogs of America, Kellee was able to take Hunter to work with her every day and said he made her "look good"because of his highly social nature. "He just loves everybody!"says Kellee. Of the many dogs she has fostered over the years, "Hunter Bear," as she dubbed him, is one she would have gladly kept. However, she followed Hunter's progress as a Disaster Search Dog and was gratified knowing that he was partnered with a good handler.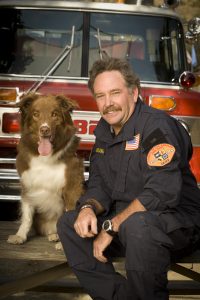 Billy grew up in Scotland around horses and dogs and had had a passion for search and rescue work since joining the Los Angeles County Fire Department many years earlier. In 1995, Billy acquired a Black Lab puppy named Max and trained him to become a FEMA Certified Disaster Search Dog. Sadly, at the age of 6, Max was stolen from Billy's home just before the 9/11 disaster. After a period of grieving the loss of Max, Billy approached SDF about being partnered with an SDF-trained dog. On April 12, 2004, Billy was paired with Hunter and this was the beginning of one of his biggest challenges!
In May of 2006, Billy and Hunter passed their DHS/FEMA Certification test and were ready to serve should they be called upon in the event of a disaster anywhere in the world. They had the first opportunity to test their skills in 2008, when Billy and Hunter responded to the devastating Metrolink train crash in Chatsworth, CA, flying in by helicopter to search for survivors.
Nearly two years passed before they were called to one of the biggest disasters to hit the Western Hemisphere in 200 years: a 7.0 magnitude earthquake in the island nation of Haiti. On January 14, 2010, Billy and Hunter were deployed to Port-au-Prince with USA-2. They searched for 16 days, combing the wreckage in search of victims still alive under acres of concrete and debris. Together with six other Canine Disaster Search Teams trained by the Search Dog Foundation, Billy and Hunter helped bring 12 people to safety.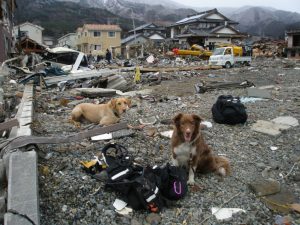 On March 11, 2011, Billy and Hunter were one of six SDF-trained Canine Disaster Search Teams deployed to Japan. The 72-member Task Force was mobilized by USAID and sent into the disaster zone along with USA-1 to comb the wreckage in search of live victims.
In February of 2012, Billy and Hunter traveled to Miami, FL and achieved FEMA Re-Certification and again in January of 2015 in Tacoma, WA. Under FEMA
guidelines, all teams must be re-evaluated every three years in order to maintain their deployment-readiness status.
Over the years, Billy and Hunter were able to pass along their advice and lessons learned to newer canine teams that followed in their foot-and-paw prints right up until his retirement on January 31, 2018, at the incredible age of 15 years old!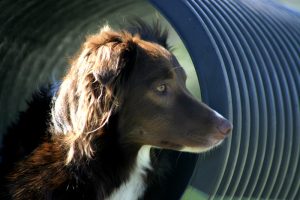 Sadly, on May 24, 2018, after beginning to have seizures related to kidney failure, Billy made the heart wrenching decision to say goodbye to his partner of 14 years to spare him any further pain. With a full Los Angeles County Fire Department salute and send off with Billy's fire station crew and Hunter's canine teammates in attendance, Billy and his wife Tami gave Hunter a spectacular last day, celebrating his life before allowing him to peacefully cross the Rainbow Bridge at his side. Hunter leaves big paw prints to fill and leaves a legacy of lessons learned through his many deployments and appearances for future generations of Search Dogs.
Click here to watch Los Angeles County Fire's final goodbye to Hunter