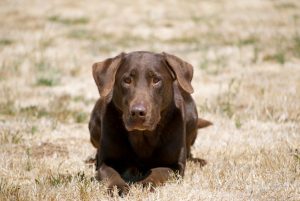 In December of 2007, the East Bay SPCA in Oakland, CA called Julia Ford, a local woman who rescues dogs and trains them for Drug and Explosives Detection.  They thought she might be interested in an unruly Chocolate Lab named Huckleberry Hound. Although she liked what she saw, he was too possessive of his toys to make it in her line of work. Julie knew that if she did not take him then and there, the chances of a dog like this making it out of the shelter were slim, so she gave SDF a call. Handler Al Duncan evaluated Huckleberry, who passed with flying colors.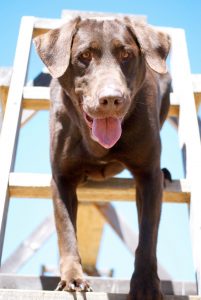 An SDF volunteer picked up the dog at the shelter and took him to Sundowners Kennels in Gilroy, CA to begin SDF's training program under the direction of Pluis Davern. His name was shortened to "Huck," and his new career began.
Not long into his stay at Sundowners, the trainers started to think they were going crazy. They kept finding Huck in kennels they had not placed him in. Lo and behold, they discovered that Huck could undo latches, open gates and climb fences.  But he didn't go anywhere — he just visited other dogs at the kennel, often going back to his own kennel before being caught!
After eight months of formal Search and Rescue training, Huck was partnered with Oklahoma City Firefighter Brent Koeninger in November of 2008. Huck and Brent trained together for 3 years and achieved advanced Certification within the State Urban Search and Rescue Alliance (SUSAR)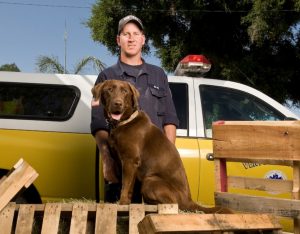 system. They deployed twice together, the first time within Oklahoma City after a tornado struck in 2010, and again following the devastating Moore, OK tornado in 2011. Despite their successful deployments, Brent felt they did not have the right partnership and that Huck might be more successful with someone else. So Brent made the decision, along with SDF trainers, to return Huck to SDF so he could be partnered with another handler.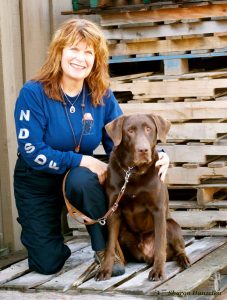 In August of 2012, after several months of reconditioning at Sundowners Kennel, Huck was paired with veteran handler Deresa Teller of California Task Force 1. Huck was Deresa's fourth career live find Search Dog as a member of Los Angeles City Fire. Huck returned home with Deresa and the team was able to bond as they trained intensively in preparation for Certification within the Federal Emergency Management Agency (FEMA) system, which they achieved in February of 2013.
Deresa officially retired from the fire department in June of 2014, but as a Certified team that has reached the highest level of urban disaster standards in the nation, she and Huck continued to train with their Task Force so that they would be ready for deployment at a moment's notice should disaster strike! They achieved FEMA Re-Certification in June of 2016 in order to remain ready to help citizens.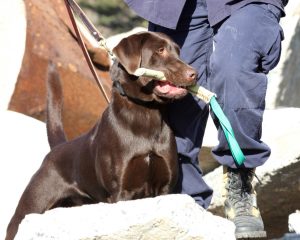 On September 30, 2017, at nearly 12 years of age, Huck was officially retired from California Task Force 1. Huck enjoyed his retirement years as a pet in Deresa's home and member of her large pack of furry partners!
Sadly, Huck crossed the Rainbow Bridge on June 22, 2018 due to a declining health and quality of life. We are forever grateful to both Huck and Deresa for their many years of dedication to the canine program in service to others.