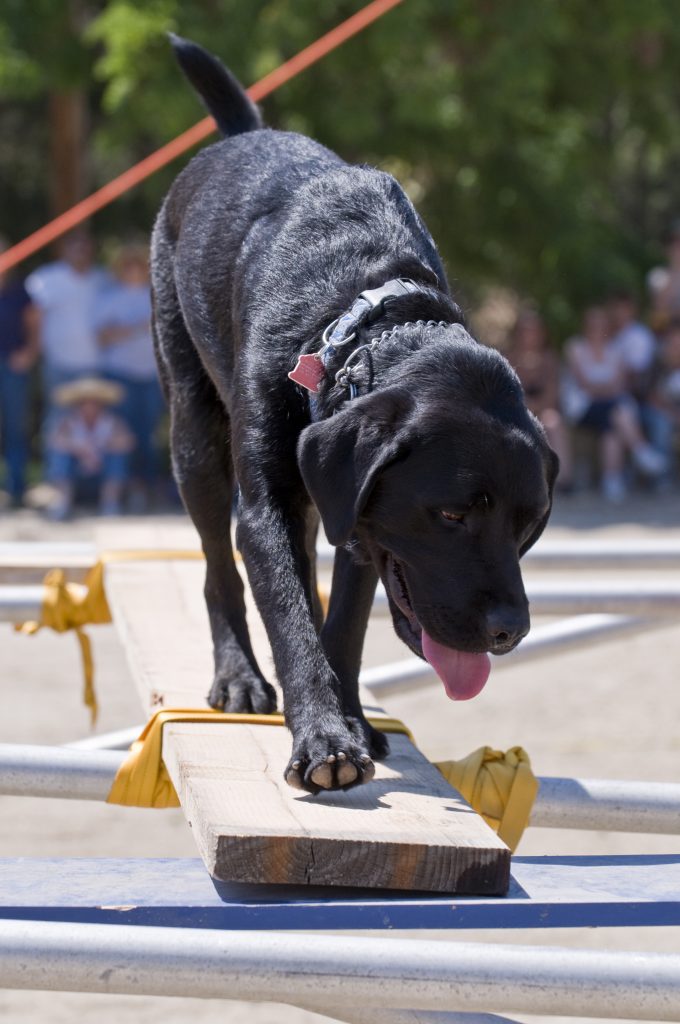 Cadillac was born in December of 2004 into a litter bred for Guide Dogs for the Blind (GDB). Puppy raiser Michelle Bennett's family fell in love with the black Lab, embracing his exuberant personality. "Cadillac would get up in the morning with a look in his eyes that said, 'this is going to be a fun day – for him!'" said Michelle.
Cadillac was a handful, exhibiting many behaviors that were not appropriate for a Guide Dog. At six months of age, he moved in with Debbie Combs, an apprentice trainer at GDB. Cadillac was Debbie's eighteenth puppy. Debbie would take him to the School for the Blind in Vancouver, WA, as well as to restaurants, shopping, to coffee shops, to visit her friends – basically anywhere Debbie and her family would go.
He was a sweet dog that liked to cuddle when they would sit on the floor with him, but he was also a busy boy and liked to find things to do. "His high drive, focusing on the wrong things and rough play added to his unsuitability as a Guide Dog," Debbie explained. Luckily for SDF, these characteristics are essential to Search Dog work, and so Cadillacmade a fine transition into our program. "We were really happy to hear he had been tested and accepted into SDF's program, and even happier to hear he had completed the program and been placed with a handler."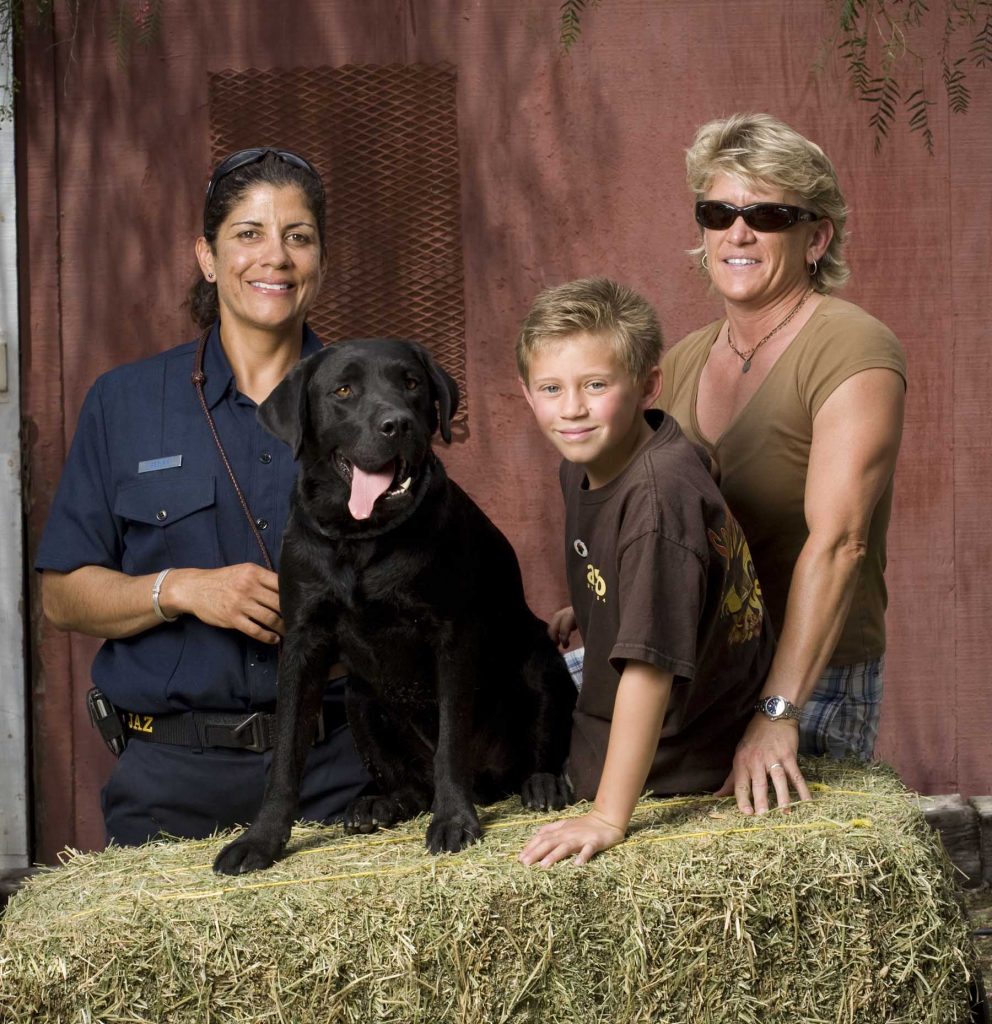 In March of 2007, Cadillac was partnered with Firefighter/Paramedic Jasmine Segura of the Los Angeles County Fire Department. Jasmine, who drove the fire engine, was chosen to be an SDF Canine Handler seven years after joining the department.
Cadillac's arrival and inclusion at Jasmine's home was an adjustment for everyone. The new routine included walking and feeding the dog, and packing for him in order to leave home. Jasmine was reminded of traveling with a baby when getting Cadillac ready to take him to work. But she loved "the crazy, goofy guy and his spirit."
"He is very calm," Jasmine laughed, "until he sees a toy. Then he turns into 'Cujo' [a rabid Saint Bernard from the 1983 movie of the same name]. He is very driven and would go through a brick wall to reach a toy."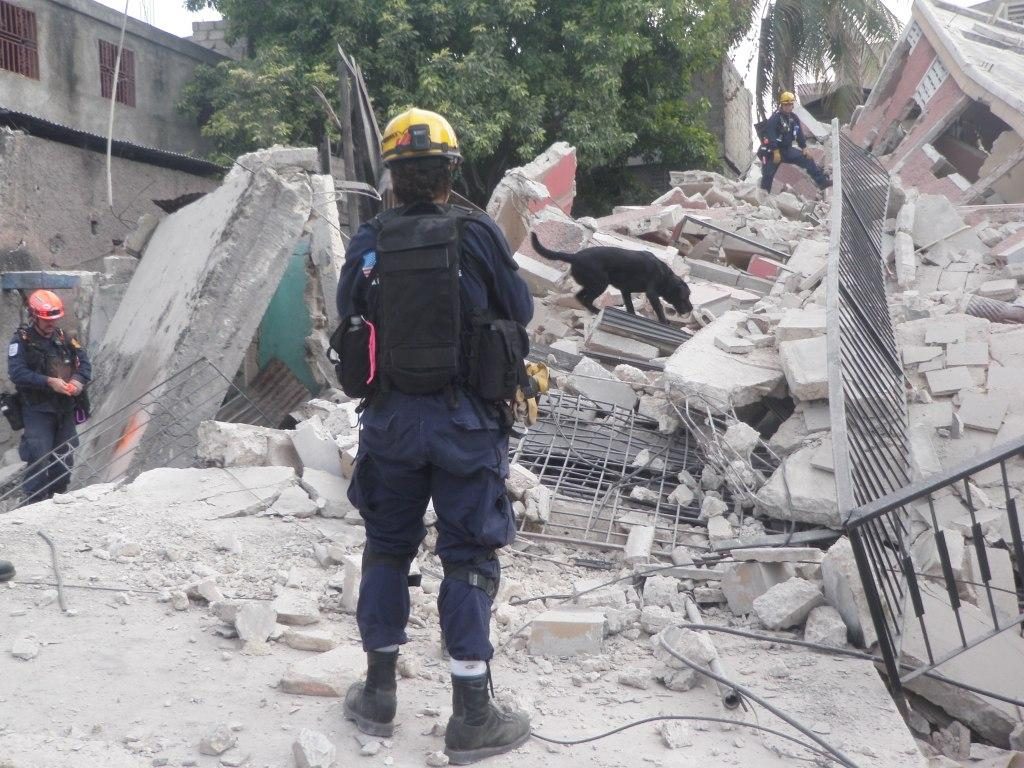 Playing with toys was a treat reserved for training. "Search should be the biggest fun in their life," Jasmine explained. If there is no training for several days, Cadillac will bring her a leaf and beg her to play tug with him. Some dogs take their time climbing a pile of debris, but Cadillac would run up a big rubble pile.
For Cadillac to stop, Jasmine would blow a whistle once, commanding Cadillac to stop, sit and stay. "It is impressive to see Cadillac go from a full run to a sit," Jasmine said. "I love that he has an On/Off switch."
Jasmine and Cadillac passed their FEMA Certification in April of 2008 and remained ready to deploy to disasters at a moment's notice as part of California Task Force 2 (CA-TF2), which can deploy internationally as necessary. 
The pair maintained their rigorous training schedule and they were more than ready when called to one of the biggest disasters to hit the Western Hemisphere in 200 years: a 7.0 magnitude earthquake in the island nation of Haiti. On January 14, 2010, Jasmine and Cadillac were deployed to Port-au-Prince with CA-TF2. They searched for 16 days, combing the wreckage in search of victims still alive under acres of concrete and debris. Together with six other Canine Disaster Search Teams trained by the Search Dog Foundation, Jasmine and Cadillac helped bring 12 people to safety.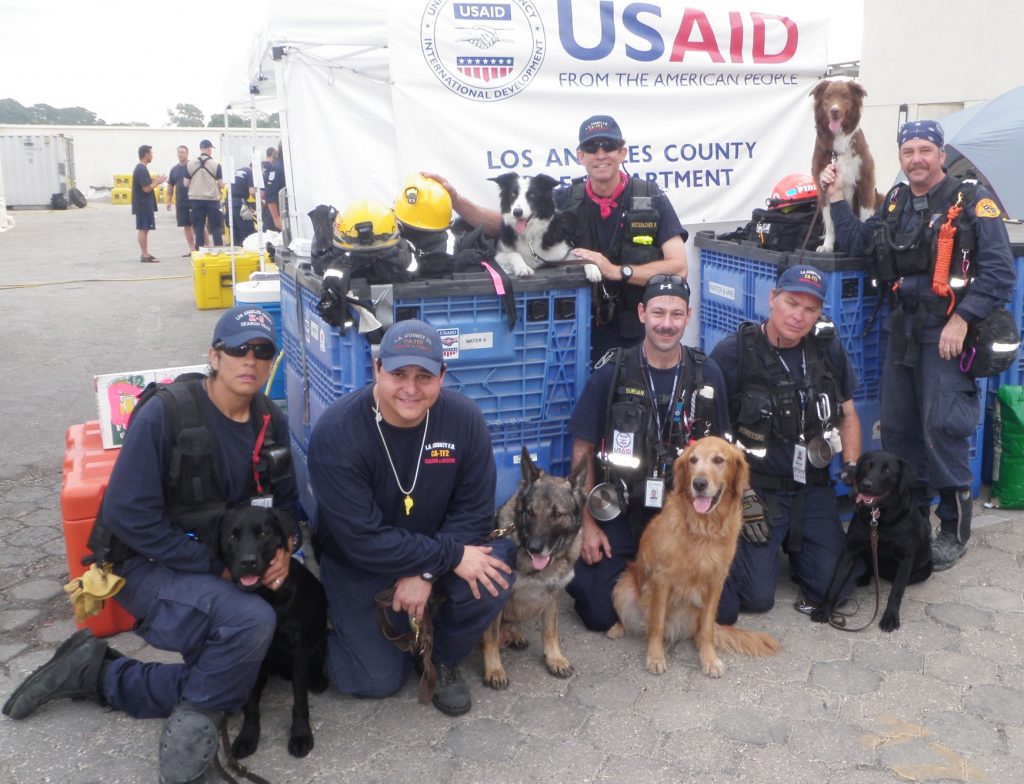 A year later, on March 11, 2011 Jasmine and Cadillac were sent on a mission to Japan with CA-TF2. The 72-member Task Force was mobilized by USAID and sent into the disaster zone along with Virginia Task Force 1 to comb the wreckage in search of live victims. The damage caused by the magnitude 9.0 earthquake and subsequent tsunami was extensive and that, along with freezing temperatures, made the work of rescue and recovery very difficult. The teams spent nine days there and returned home to Los Angeles to a throng of welcoming family and friends.
Cadillac and Jasmine remained ever-ready to help people in need, training regularly with their task force teammates. When his Certification expired in April of 2014, Jasmine decided it was time to allow Cadillac to enjoy his senior years. He was nearly ten years old and deserved an enjoyable retirement. Cadillac transitioned to life as a family pet in Jasmine's home and never lost his lively spirit.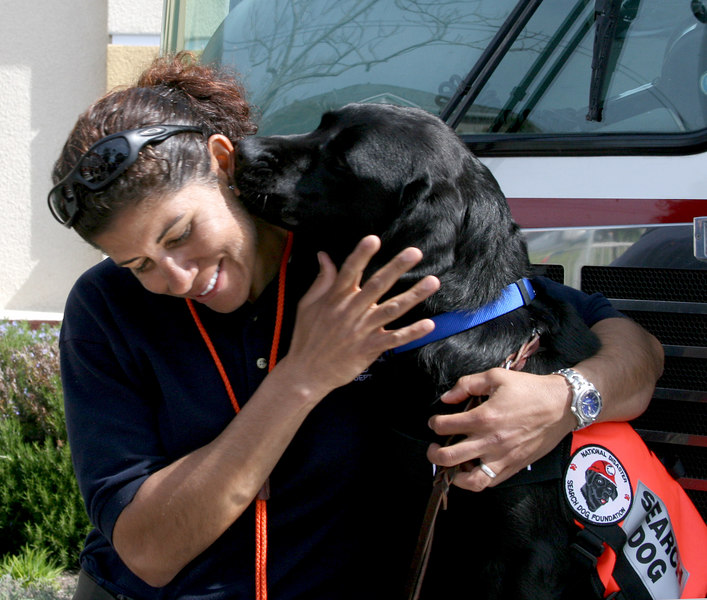 Over the years, Cadillac slowed down physically but he remained the same, loving and toy-crazed puppy inside. One week before his 14th birthday, Cadillac crossed the Rainbow Bridge peacefully, Jasmine there to hold her partner's paw and say a final farewell.
We are incredibly grateful to Cadillac and Jasmine for their years of dedication to their work in service of others. A beautiful dog, Cadillac's memory will carry on for years to come and we will make sure that his contribution to the US&R world is not forgotten. Thank you, Cadillac.