Bonnie and her sister Clyde, purebred Labrador Retrievers, were born on October 12, 2003.  Although they were littermates, their personalities couldn't have been more different.  Clyde responded to training, but Bonnie's future was on thin ice.
Bonnie's owner, Becky Rutledge, feared that Bonnie might ultimately land in a shelter. Bonnie's hyperactivity and incessant barking were causing chaos. Six walks per day, beginning at 5:30 a.m., did not contain her energy.  At nine months old, the veterinarian had prescribed a sedative for Bonnie with the parting words, "Good luck. I don't envy you."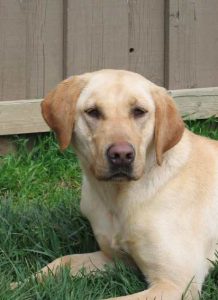 Becky was out of options. She was reluctantly looking for a new home for Bonnie. In spite of her destructive behavior, Becky recognized that Bonnie was highly intelligent – even brilliant. "I could teach her a new trick in two minutes." On outings to the beach as a puppy, Bonnie easily negotiated steep cliffs and relentlessly climbed and explored. At parks, she would soon be found exploring deep into the bushes. Last, she was extremely loyal – a one person dog. Little did Becky know that these traits were the very ones that were about to transform Bonnie's life dramatically.
As a last resort, Becky called on her dog trainer, Stacey Ayub, who happened to be a volunteer for SDF at the time. Stacey felt that Bonnie's drive and energy might be a good fit for SDF. On Stacey's recommendation, Becky contacted SDF and arranged to have Bonnie tested. After passing SDF's evaluations, Bonnie was accepted into our training program!
On November 16, 2004, Becky handed one-year-old Bonnie over to Debra Tosch, SDF's Executive Director at the time, at a gas station in Ventura, CA. Debra was on her way to Sundowners Kennel, where SDF dogs were being trained, and was happy to take Bonnie to begin her new life as a Search Dog.  It was not easy to turn Bonnie over to SDF, but Becky was comforted by knowing that she was going to be doing something that would make Bonnie feel good and that she would be taken care of forever.  Becky felt that Bonnie had been sending a message through her behavior that she was just not meant to be a house dog. She needed a job.
Across the continent in Greenwich, NY, a lifelong dream of Bill Simmes was about to become a reality.  As a full-time employee with the State of New York Office of Fire Prevention & Control's Special Services Bureau, Bill and his coworkers oversaw the state's Urban Search and Rescue team – personnel, equipment, training and deployments, as well as all the rescue training throughout the state to career and volunteer firefighters.  Bill had carried on the family tradition of service – his father was a fire chief; his brother is also in fire service.
Bill initially became interested in becoming a handler when the fire service started using arson detection dogs in his area.  When he accepted his current job several years ago, he was successful in getting appointed to the K-9 unit, which was then in the early stages of development.  Four teams at the state level in New York were eventually approved for training with SDF, with all the handlers located near Albany.  While Bonnie was undergoing intensive training at Sundowners, Bill was preparing to receive his dog.  In May of 2005, six months into Bonnie's training, all four New York handlers flew out to California for training and to meet their new canine partners.
Bill recalls the day SDF Lead Trainer Pluis Davern evaluated which dog he would be assigned.  He was drawn to Bonnie as the most energetic of the dogs; he liked that she was eager to please and that she wanted to be out in front – always ready to go. He had a feeling that he would be partnered with her, and his intuition was correct.
Bonnie arrived at the Simmes household on July 5, 2005 to begin a new life with Bill, his wife Paula, and Grizzly, their 13-year-old Sharpei who was both blind and deaf. Bill described the way Bonnie adjusted to Grizzly as an example of her sensitivity.  After completing their introductory sniffing ritual, Bonnie immediately knew Grizzly was different and treated him gently, even letting him regularly bump into her.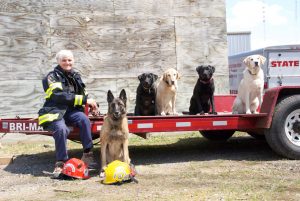 Bill and Bonnie trained weekly with the three other SDF teams in the Albany area. On days when Bonnie and Bill were at the office, they spend time training on obstacles, direction control and other skills.  When they were not training, Bonnie had her own kennel area and was greeted by other employees and guests as they made their way past Bill's office.  On days when Bill was on the road at the fire academy or fire stations around the state, Bonnie traveled with Bill and was always welcome to hang out somewhere in the station or in her kennel in Bill's state-assigned vehicle.  The vehicle was set up with a K9 kennel as seen in most K9 police units, as well as a heat monitoring device for her protection.  When they were on the road, Bill found areas to do training in direction control, obedience and even ladder work.
The hard work and training certainly paid off as Bill and Bonnie Certified four times in their careers, most recently in July of 2013 in Windsor Locks, CT. The team deployed following many disasters over the years:
May 2006 – flooding in Sullivan County, NY
June 2006 – flooding in Broome County, NY
June 2007 – building explosion in Albany, NY
June 2007 – flooding in the Catskills
October 2007 – missing person search in Bethlehem, NY
July 2011 – house explosion in Salem, NY
October 2012 – flooding created by Superstorm Sandy in Long Beach, NY
June 2013 – flooding in Montgomery County, NY
August 2014 – house explosion in Schenectady, NY
November 2014 – severe snow storm in Erie County, NY (deployed with another member of the Task force)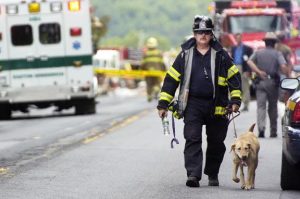 Over the years, Bill says he found the experience of being a handler incredibly rewarding. There is no doubt about it – he found that it was definitely time-consuming, a major adjustment and at times physically, as well as mentally, draining. "This requires dedication and commitment and that special desire to make other people's lives more comfortable, knowing there are people ready to come to their aid when needed."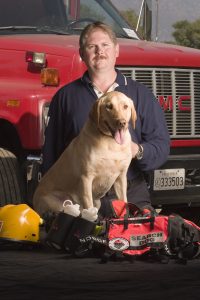 On May 22, 2015, Bonnie retired from New York Task Force 2 and the department at 11 years of age. She had served the State of New York and its citizens for nearly a decade and had a career of which she and her team could be proud! From that point on, Bonnie remained in the Simmes home as a beloved family pet.
Sadly, Bill had to say goodbye to his canine partner when Bonnie crossed the Rainbow Bridge on November 17, 2017. She went peacefully and had a beautiful, long life. We are forever grateful to Bonnie for her service to the nation and she will be honored at SDF's Canine Memorial Wall for future generations of Search Teams to admire. Thank you Bonnie.