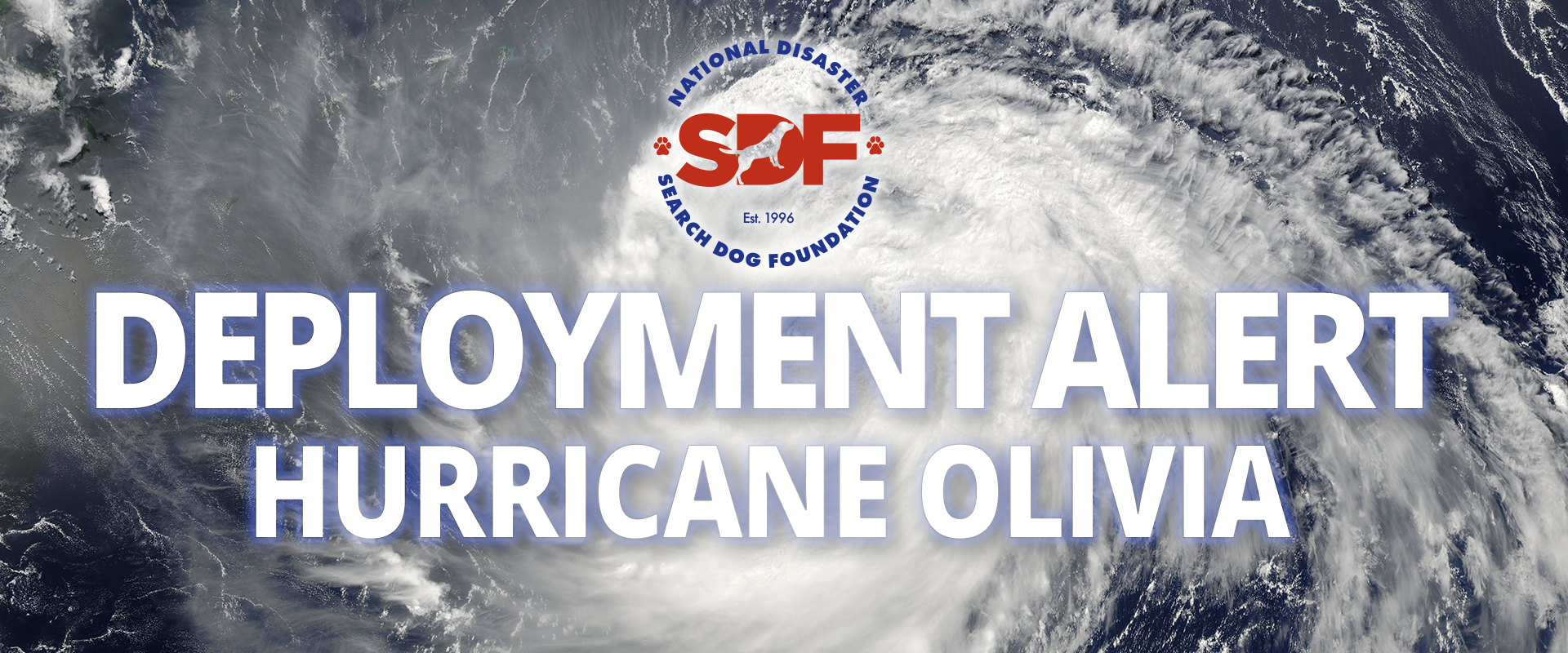 On Saturday, September 8, 2018, the Federal Emergency Management Agency (FEMA) began deploying U.S. Urban Disaster Search and Rescue teams to the state of Hawaii in anticipation of Hurricane Olivia, which had the potential to make landfall by the 11th.  Two SDF-trained canine teams from California Task Force 3 (CA-TF3, based in Menlo Park) were flown in to assist the people of Hawaii - Lieutenant Garreth Miller & Vita and Firefighter Eli Thomas & Vader, both of the San Francisco Fire Department. In addition to our canine teams and their fellow CA-TF3 members, California Task Force 6 (based in Riverside) and Washington Task Force 1 (based in Seattle) were also sent to help as needed.
Hurricane Olivia had been downgraded to a tropical cyclone by the time it got to Hawaii, and though officials had hoped it would bypass the islands, was the first ever to make landfall on Maui and Lanai. Heavy rain and strong winds caused flash floods on these islands, as well as in Honolulu on the Big Island.
Though roads and buildings were affected and schools and businesses were closed for a few days, thankfully, Olivia was not so devastating that it caused any missing person reports or deaths. With all citizens accounted for, there was no need for our canine teams to search. Instead, Garreth and Eli set-up practice searches for their canine partners and were able to use the deployment experience to better prepare themselves for the next time the call comes.
A week following the initial date of their deployment, CA-TF3 was demobilized and returned home to their families. Garreth & Vita and Eli & Vader will continue to train with their Task Force teammates and use lessons learned from these missions to be as prepared as possible for the next big disaster.
We are so grateful for your support in training our teams to be prepared for disasters like this. Even if the canine teams are not needed for these storms, we know they are ready and are in place, should they be called upon to help in the aftermath.
The SDF Search Teams who were activated for this incident:
CALIFORNIA TASK FORCE 3
Saturday, SEPTEMBER 15, 2018
The deployment in Hawaii has come to an end and our Search Teams, along with all of their Task Force are back home. We're grateful CA-TF3 was on hand in preparation for Hurricane Olivia and everyone able to return home safely.
ThuRSDAY, SEPTEMBER 13, 2018
California Task Force 3 (CA-TF3) was officially released by FEMA Wednesday morning from the Hawaiian Islands after Hurricane Olivia. Read more about the deployment from Menlo Park.
SUNDAY, SEPTEMBER 9, 2018
Our teams have arrived safely in Hawaii and will be setting up in preparation for the storm. Once established, they will likely be checking in with local agencies to determine how to best assist in any rescue efforts that might be needed in the days to come.
SATURDAY, SEPTEMBER 8, 2018
Late Saturday night, SDF was notified that Search teams Garreth Miller & Vita and Eli Thomas & Vader would be flying with their task force teammates to Hawaii in anticipation of Hurricane Olivia. At this time, we do not know if the storm will hit the Hawaiian islands or pass closely by them so FEMA task forces have mobilized to assist local authorities in case of flooding or landslides.