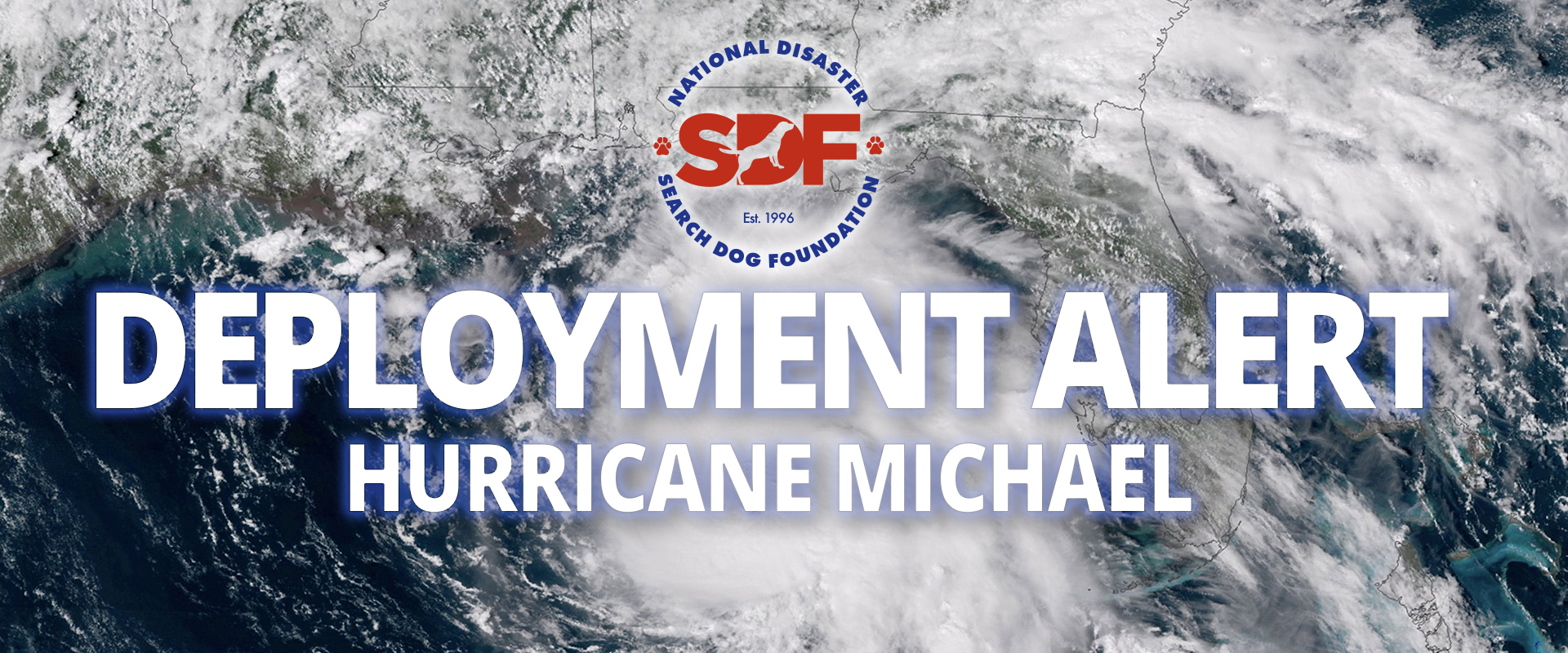 Just 11 days after returning home from a mission to the Carolinas where they spent nearly 3 weeks aiding those affected by Hurricane Florence in the Carolinas, SDF-trained search team Marshia Hall & Lilah are deploying again with their FEMA task force in response to Hurricane Michael.
The SDF Search Teams who are currently activated for this incident:
FLORIDA TASK FORCE 1
WEDNESDAY, OCTOBER 10, 2018
The storm made landfall on the panhandle northwest of Mexico Beach, Florida this morning as a Category 4* hurricane and is already causing widespread damage with sustained winds of 155 mph. Having traveled up through the Gulf of Mexico for the last week, Michael is the third-strongest hurricane to hit the U.S. since 1935 and the strongest to hit Florida since 1851.
By midday, five states had declared a state of emergency in response to the impending Hurricane: Florida, Alabama, Georgia, South Carolina and North Carolina. Citizens who did not evacuate earlier are now being told to stay in their homes and head to higher ground, meaning thousands of people could be stranded.
"Unfortunately, Hurricane Michael is a hurricane of the worst kind," FEMA Administrator William "Brock" Long said at a news briefing Wednesday morning.
"Major hurricanes cause large losses of life and [cause] the most amount of destruction that hurricanes can [possibly] bring forward…It's going to be a major hit," Long said of the storm's expected impact across the region.
The canine teams will be getting into position throughout the day as rescuers wait for Hurricane Michael to pass so that they can assess the greatest areas of need.
We hope that buildings and structures will be able to sustain the fierce storm and limit the injuries and casualties this hurricane has the potential to cause. Compared to Hurricane Florence, Hurricane Michael is projected to be more devastating and dangerous, which means that Marshia and Lilah, along with their Florida Task Force 4 teammates, will have their work cut out for them.
As always, we are incredibly grateful that these teams are trained and ready for when the call comes.
*Category 5 Hurricanes consists of storms with sustained winds exceeding 156 mph.
See the latest forecasts here, a city-by-city guide here and the storm's movement here.