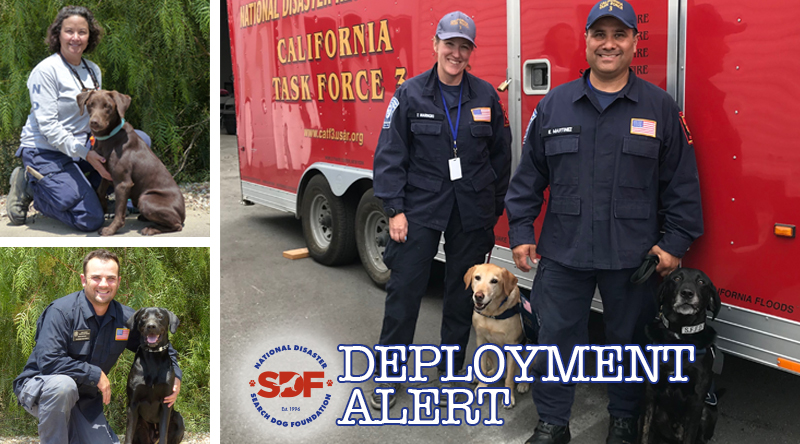 Hurricane Lane was originally a Category 5 hurricane, eventually reaching the Hawaiian islands on August 22 as a slightly weaker Category 4 storm. Even though it did not pass directly over the islands, the massive amount of rainfall and subsequent flooding damaged parts of Hawaii. Three FEMA task forces, including three SDF-trained Canine Disaster Search Teams, made themselves available to assist local authorities however they may have been needed.
The Canine Disaster Search Teams who were activated for this incident:
CALIFORNIA TASK FORCE 3
Teressa Harnois & Phoxie (non-SDF team)
CALIFORNIA TASK FORCE 8
WASHINGTON TASK FORCE 1
Two non-SDF teams
THURSDAY, AUGUST 30, 2018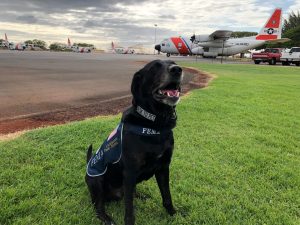 All SDF-trained Canine Disaster Search Teams have returned home safe and sound! California Task Force 3, including Search Teams Ed Martinez & Fritz and Teressa Harnois & Phoxie, arrived home late tonight, ending their week-long deployment to Hawaii for Hurricane Lane. Thank you to everyone on all three FEMA task forces that responded - California Task Force 3 (Menlo Park), California Task Force 8 (San Diego) and Washington Task Force 1 - for your long hours, hard work and dedication to helping the people of Hawaii that were affected by this storm. WELCOME HOME!
TUESDAY, AUGUST 28, 2018
California Task Force 8 has arrived home safely, welcomed by family and friends in San Diego. The task force is in good spirits and feel that they were able to help local Hawaiian authorities in the response to Hurricane Lane. Though the Search Dogs did not work, it is a good thing that they were not needed due to the storm dissipating and not creating as much damage as originally expected. Thank you for your service, CA-TF8!
SUNDAY, AUGUST 26, 2018
The teams have moved to different islands now - California Task Force 3 was transported by the United States Coast Guard to Hilo, Hawaii while California Task Force 8 and Washington Task Force 1 have traveled to Honolulu, where they are continuing to train and inventory equipment and supplies to stay prepared to help when called upon. Lane has now been downgraded to a Tropical Storm and though there is still flooding in some areas, the impact of the storm appears to be nearly over.
FRIDAY, AUGUST 24, 2018
The task forces continue to ride out the storm in Hawaii and Washington Task Force 1 has assisted authorities on the western side of Maui with a wildfire that broke out overnight. The storm itself has dissipated some and is currently a Category 2 and moving much slower than before, but the threat of flooding remains and the teams are ready as needed.
Check out a great article about Search Dog Fritz responding to Hurricane Lane published by The Mercury News here!
THURSDAY, AUGUST 23, 2018
All three FEMA task forces arrived safely in Hawaii, although each task force is on a different island to better help agencies throughout the state. As the storm continues, the teams will wait and assess the damage before helping out where they can.
WEDNESDAY, AUGUST 22, 2018
California Task Force 8 departed California for Hawaii in the afternoon and will most likely be staging on one of the islands until the storm passes and they can help in the aftermath. See a local TV news story about their preparation for this deployment here!
California Task Force 3 is still activated and at the warehouse preparing for deployment – they don't have any details yet on when or how they will be traveling but we will let you know as soon as we hear they are mobilized.
TUESDAY, AUGUST 21, 2018
During the night on August 21, SDF was notified that California Task Force 3 (Menlo Park) and California Task Force 8 (San Diego) had been activated for Hurricane Lane, a Category 4 storm that is nearing the Hawaiian Islands. The teams are preparing for possible deployment and ensuring they're ready to go at a moment's notice.