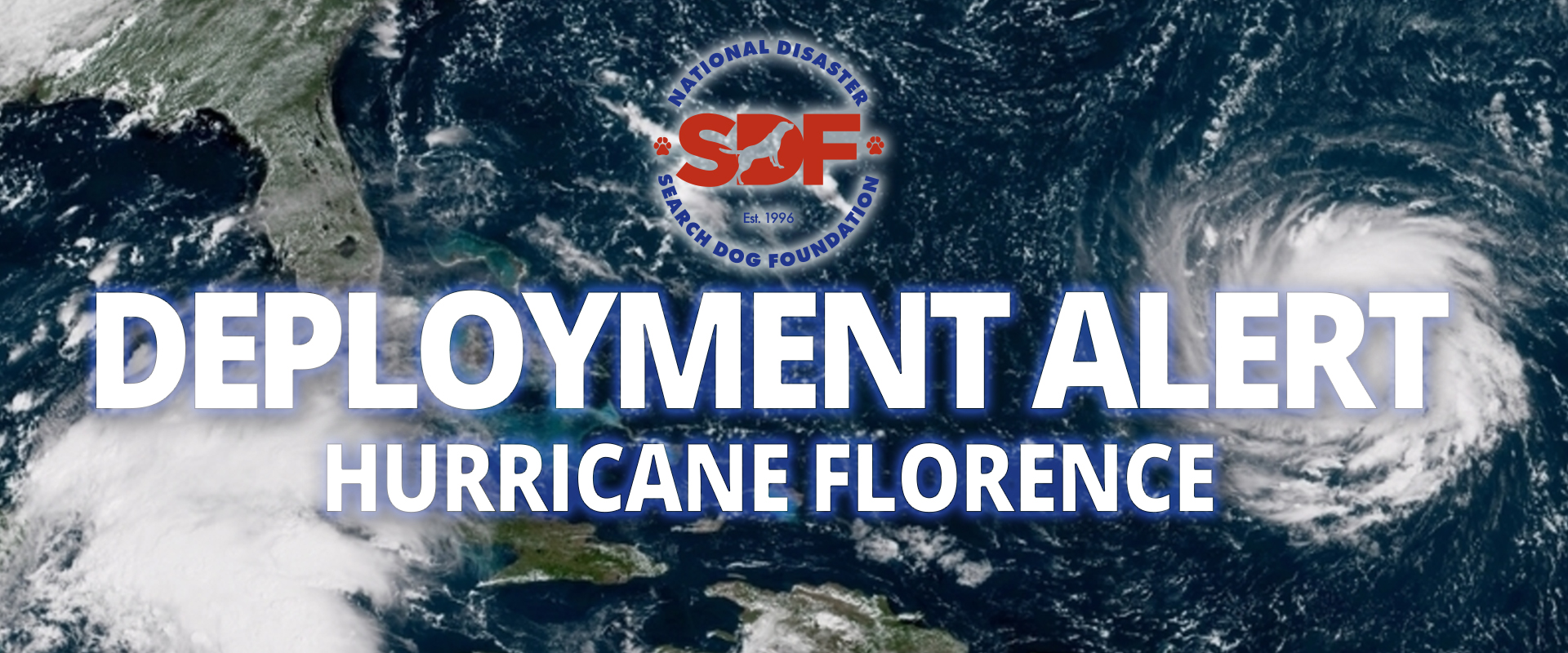 SDF has several teams deployed to the East Coast for Hurricane Florence from both Florida Task Force 1 and Nebraska Task Force 1. All 28 Federal Emergency Management Agency (FEMA) task forces mobilized components in response to Florence in the past week, as the hurricane was expected to grow to a potential Category 5 - bringing flooding and destruction to much of the Eastern seaboard.
The SDF Search Teams who are currently activated for this incident:
FLORIDA TASK FORCE 1
NEBRASKA TASK FORCE 1
MONDAY, SEPTEMBER 17, 2018
Florence has been downgraded from a hurricane to a tropical storm, and now to a tropical depression primarily due to slowing wind speed and rains. Today is the first day the rain isn't pouring and rescues continue. Since Thursday, 23-30 inches of rain has fallen in different parts of North Carolina - the hardest hit state - where 500,000 citizens are without power today and over 100 roads are closed. More than 1,000 mostly water rescues have already been performed. Tragically, 17 people are confirmed dead.
For more coverage of the area:
https://www.msn.com/en-us/news/us/there-is-no-access-to-wilmington-as-florence-flooding-overwhelms-north-carolina/ar-BBNrTxb?ocid=spartandhp
https://www.today.com/video/florence-death-toll-rises-as-new-evacuations-ordered-1322180163722
There have been uplifting stories about rescues in this difficult time. Here is one about a truck driver who saved 64 cats and dogs on a school bus:
https://www.msn.com/en-us/news/world/noah's-ark-except-it's-a-school-bus-truck-driver-rescues-64-dogs-and-cats-from-floods-of-hurricane-florence/ar-BBNrCyS?ocid=spartandhp
SATURDAY, SEPTEMBER 15, 2018
Our teams on the East Coast are in place, still waiting for Hurricane Florence to pass after making landfall on September 14. FEMA can assess the area and determine where teams are most needed once Florence passes, Click here to track the storm in real time, and stay up to date on weather conditions in the area.
MONDAY, SEPTEMBER 10, 2018
Three SDF-trained Search Teams are headed to the East Coast ahead of Hurricane Florence. We have also been in touch with the remaining task forces that have SDF teams – for now, everyone else is staying put until we see what the storm does. All 28 FEMA task forces have assets deployed in some capacity – some have deployed a full response, while others are only sending swift water rescue components.
If Florence becomes a Category 5 hurricane in the next 24 hours, as expected, it may dissipate a little before it hits the Carolinas on Friday. There are also several other storms in the Atlantic, behind Florence, so we will continue to monitor the storms and will post updates as we get them.
Here are some of the news stories that have been shared across the country about SDF's teams on the move:
Search dogs trained in Santa Paula are members of FEMA task force responding to hurricanes - Santa Barbara, CA
Search dogs sent to NC coast to help with Hurricane Florence rescue efforts - Raleigh, NC
Search dogs assist those going through Olivia and Florence - Hawaii