Bella was originally adopted from Jackson County Animal Care & Control Center in Phoenix, Oregon by a family who had good intentions but were not a great match for her. The family contacted SDF Canine Recruiter Kirsten Fulk, also located in Oregon, who evaluated the young German Shepherd for SDF's program in June 2016, and she passed!
Sadly, Bella had to be released from our training program, when a veterinarian determined that her hips were not sound enough for this type of intensive physical work. So she entered SDF's Lifetime Care program and we began to seek the perfect family for her.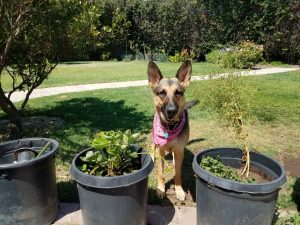 In March 2017, Bella was adopted by the Herman family who knew she was the one for them! Marlene Herman recently shared, "We're madly in love! And I'm amazed at what she's done for my husband, who's in a wheelchair." As soon as he wakes, Marlene's husband, Victor, and Bella begin to play fetch in the yard – he tries to make her hunt more by tossing the toy into more difficult areas. Bella also loves playing with the family cat. As energetic as Bella is, as soon as nighttime rolls around, she becomes the cuddliest dog ever.
Marlene says that Bella has filled a hole in their hearts that was left when their last Shepherd was taken from them too soon. We could not be happier for Bella, her new family and their beautiful life together!