In April 2018, three Search Dog Candidates graduated from our training program, joining our nation's roster of canine heroes. Along with their new First Responder-Handlers, they are now taking their first steps in a career dedicated to serving the nation when disaster strikes. 
SDF's newest Canine Disaster Search Teams joining our nation's disaster response network are:
Mike Brice and Search Dog Blake (San Diego Fire-Rescue/California Task Force 8)
Adam Leckonby and Search Dog Luka (New York State Division of Homeland Security & Emergency Services/New York Task Force 2)
Billy Walkenhorst and Search Dog Victor (City of Santee Fire Department/California Task Force 8)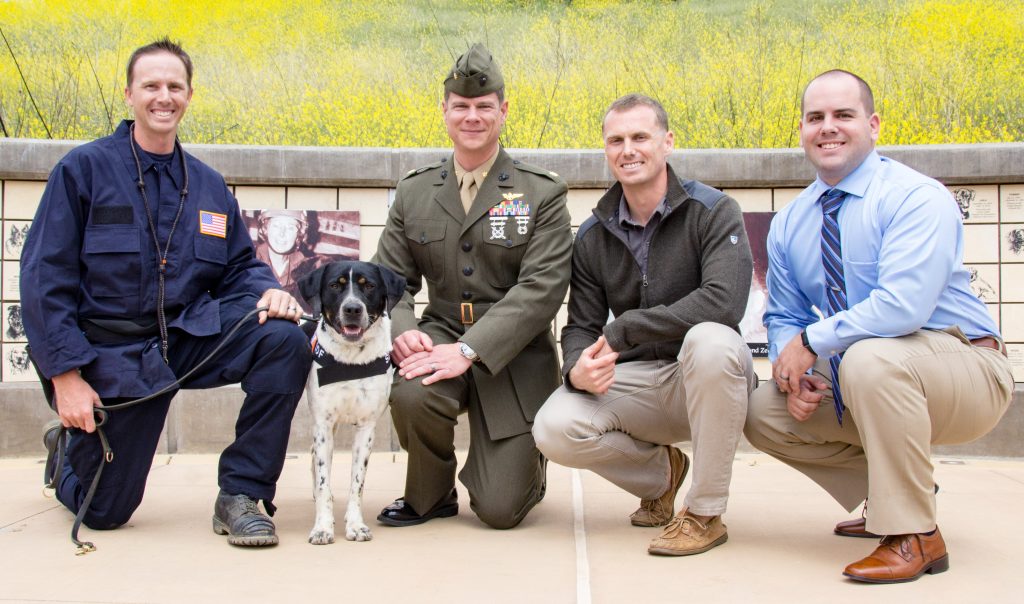 Graduates Victor and Luka were named in honor of six Marines and two Nepalese soldiers onboard a Marine UH-1Y Huey helicopter that went missing and crashed on May 12, 2015 in the Himalayas while on an earthquake relief mission in Nepal. Victor was the call sign of that helicopter and Luka was renamed in honor of Captain Dustin R. Lukasiewicz, who was lost in the crash. We were privileged to be joined by Major Danny Byrd, Sergeant Robert Brown and Captain Charles Kuhnmuench who attended the graduation as representatives of Joint Task Force 505 and served with the fallen Marines in Nepal.
We would also like to thank:
Kirsten Fulk for helping SDF recruit all three canine graduates.
The Joel and Dena Gambord Foundation for sponsoring Search Dog Luka.
Red Oak Foundation for sponsoring Search Dog Blake.
Patricia Snyder for sponsoring Search Dog Victor.
The Frances and John Wahl Foundation for supporting the Handler Course through our Search Team Scholarship Fund.
The Eric Evans Memorial Fund for supporting our New York Search Teams.
See more photos of the graduation below: