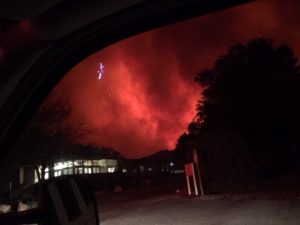 When we evacuated from our National Training Center (NTC) campus on the night of December 4, 2017, we weren't sure if we would have a home to come back to after the devastating Thomas Fire swept through our canyon. 18 days later, our staff and Search Dogs in-training eagerly returned to the NTC, relieved and happy to return to some normalcy.
Though the landscape was in stark contrast to what we left behind as we exited our gates the evening of the fire, we are so grateful that all of our staff, our visiting Handlers, and dogs were all safe.
We were relieved to see all of our main buildings – the Welcome Center, Handlers' Lodge, Canine Pavilion and Caretaker's Quarters – were unscathed, as were the Showgrounds, Canine Memorial Wall, and Guardian Glade.
Somehow, miraculously, only a few areas of the NTC were affected as the fire raged down our canyon toward the roadway and into the hills westward: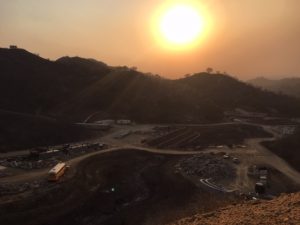 Search City was burned to the ground, with only remnants of the buildings and vehicles that made up our mini disaster neighborhood remaining. The train car at the top of the Train Wreck prop was burned and was no longer usable, so it was removed. And, sadly, the historic Boone's Cabin, containing relics from over one hundred years of history was completely gone. Other areas throughout the campus were also impacted but these three areas were the worst of it.
One year after we were first able to return to campus and survey the damage, we are thrilled to share that the rebuilding of the parts of our campus that were burned has begun to take shape.
The training of our canine candidates has continued on the rubble piles, under the covered training arena and in other areas of the campus, but advanced dogs have had to make do with building searches in our office areas until Search City could be rebuilt.
After extensive cleanup and re-permitting, the reconstruction of Search City is currently underway and will include upgraded training features such as an improved scent tubing system throughout the buildings, additional hides and added lighting in the area. These new designs are based on feedback from teams during the years they were able to train in Search City before the fire and enable SDF trainers to better challenge both Search Dogs and handlers alike.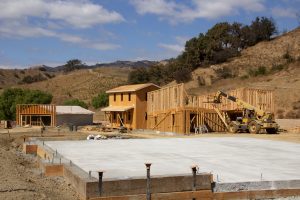 In addition to Search City being rebuilt in early 2019, we are also replacing the train car that was burned and removed. When completed, this disaster simulation prop will once again allow veteran Search Teams to prepare for a Train Wreck or similar urban catastrophe in future deployments.
As so many in our community continue to recover from the Thomas Fire and the Hill Fire and Woolsey Fire just a few weeks ago, our thoughts are with those who lost so much more. We will continue to share the progress of our rebuild via email updates and social media as our campus is reconstructed over the next few months —stay tuned!

A work in progress: rebuilding our campus