Blake and Dora didn't have an easy life on the streets before joining the SDF family, but now that they've entered SDF's Canine Training Program at our National Training Center (NTC), they have a new "leash on life" and are excelling during their Search Dog training!
BLAKE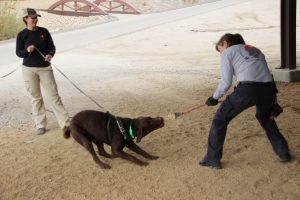 Blake was picked up as a stray by Jackson County Animal Services in Medford, Oregon. While SDF Canine Recruiter Kirsten Fulk was walking through this shelter, she thought to ask one of the staff members if they had additional dogs in their facility since all she was encountering were pit bulls. A staff member confirmed there were additional dogs in the back part of their shelter and suggested she take a look. This is where she met Blake, who had not yet been added to their adoption list. Kirsten showed Blake a tennis ball and he immediately jumped into the air and lunged toward the gate with excitement for the ball. At that moment, she knew he was the dog for the job and brought him to the NTC to begin his formal training.
Blake's enthusiasm has not diminished at all since he began training and he is currently working on focusing his energy and his bark alert!
DORA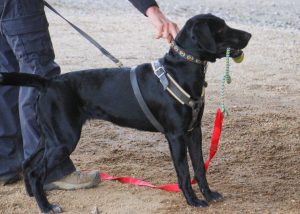 Dora was picked up as a stray in Sacramento where the Sacramento Animal Services shelter staff noticed how ball crazy Dora was and thought immediately of SDF. They contacted Sylvia who then asked Kirsten Fulk to take a look since she would be driving through the area on her way back home to Oregon from our NTC. Kirsten knew right away that Dora had potential and immediately scooped her up to start Search Dog training.
Dora is doing fantastic during training and has been described as a "firecracker" by our trainers. She is currently working on the barrel lineup and is not phased by distractions as she continues her journey to becoming a Search Dog!