Florida building collapse
At 11:00 a.m. on the morning of May 6th, a Search Dog Foundation canine-firefighter team was called into action when the construction frame of a highrise hotel-condo collapsed in Bal Harbour, near Miami, sending a three-foot layer of drying concrete onto workers and trapping them beneath the debris.
Thanks to your support, SDF team Mike Conners of Coral Gables Fire and Rescue and his Chocolate Lab, Hobbes were on the scene within the hour to search for survivors. Minutes after leaving the scene, his pulse still racing, Mike relayed their story:
"At 11:00 a.m. we received a call from Florida Task Force 1 saying that the building at 10295 Collins Ave. had collapsed and that Hobbes was needed immediately to search the wreckage. We went straight to the site where the Operations Chief oriented us and sent us twenty floors up in an outside construction elevator. From there we hiked up six more floors to get to the victims.
Three construction workers were confirmed missing. When we arrived they were pulling the second body out of the rubble, and Hobbes' mission was to find the next victim and clear the area as fast as possible. As soon as we arrived, they pulled everyone off the pile and let me run Hobbes over the collapse.
One minute after I released him, he gave the bark alert and started digging in the center of the rubble. I pulled him off, re-sent him, and he went right back to the same place and started barking and digging again. With the find confirmed, I pulled him off and the rescue team went to work to pull out the third body. Hobbes was definitely reacting to live scent, so the person must have died not long before. About 2:30 p.m., after the body had been taken away, two more dogs arrived from Task Force 1 and also searched the area.
This deployment at a high-rise construction site was a whole new ball-game for us. There was concrete, rebar and wet cement everywhere. At the edges all around was open space; you step off that, and 26 floors down you go. It was incredibly nerve-wracking. I worked Hobbes on a long leash, rather than off leash as we usually do, because he was working so close to the edges. It showed me how crucial it is to have complete control of your dog. Without that control, he could run off the edge and that would be it.
It was an amazing experience—so many hazards, such difficult conditions. There were 15 or 20 firefighters going back and forth at first and many distractions. But when I said 'Search!,' Hobbes' mind just turned right around and he went to work, ignoring everything else. He was awesome. The firefighters at the scene were amazed—they'd never seen a dog do this. The body was exactly where Hobbes said he'd be, and it took only minutes for Hobbes to zero in on the spot. Chief Perry Metro, the Task Force leader, said Hobbes did exactly what he's supposed to do.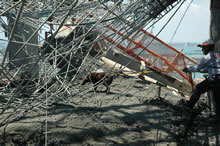 This is when you really see the constant training pay off. Russell Tao and Andy (an SDF-trained team from California Task Force 5, Montebello Fire Dept. near Los Angeles) had just been out with us for a whole week of intensive training—and it really made a difference. This is what it's all about–you train, train, train…then all of a sudden you're in a deployment, using everything you've learned to overcome obstacles and get the job done.
As soon as I pulled Hobbes off the pile I gave him his toy and he loved it! He was jumping up and down. He was so happy to have done his job and be rewarded for it. My pulse rate was about 120, too. It was incredible. This is what we train for! This is what it's all about!"
Comments Debra Tosch, SDF Executive Director:
"This is exactly what our teams train for. Their search efforts provide closure to families affected by the disaster, and save precious time for rescue workers by immediately pinpointing the location of the victims. Hobbes was a 'career change' dog donated to NDSDF by Guide Dogs of America. Our thanks to GDA and to Mike and Hobbes for their tremendous work."