Second major quake in Nepal, SDF Search Teams redeployed
May 12, 2015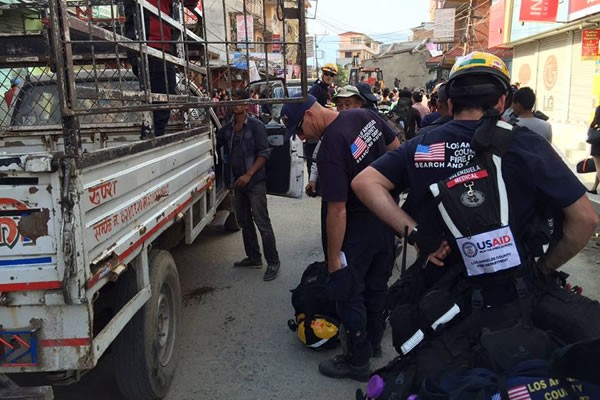 The death toll is rising again in Nepal in the wake of a 7.3 magnitude earthquake that struck the country at 12:35pm Tuesday, local time, causing more widespread damage. The 12 Canine Disaster Search Teams deployed by the U.S. for the first earthquake in Nepal were preparing to come home a few days ago, but due to logistical issues were still in Nepal. Now they're now back in full deployment mode, their highly-trained dogs searching the rubble for survivors. Six of the dogs on "Team USA" in Nepal were trained by the Search Dog Foundation, and deployed by the U.S. as part of Los Angeles Task Force 2. Four of these dogs were recruited from shelters—they are rescued do...turned rescuer.
First Deployment: Devastation in Nepal Six SDF Search Teams Deployed
According to the UN, the death toll from the April 25 earthquake now stands at 5,006 with an additional 10,194 people injured. An estimated 8 million people remain affected across 39 of Nepal's 75 districts. Authorities expect these figures to rise as rescue efforts continue.
Today, members of USAID's 128-person Disaster Assistance Response Team (DART) reached hard-hit Bhaktapur, a city east of Kathmandu. There the DART's urban search-and-rescue team worked closely with the Nepali army and members of the community to determine where people might be trapped and to conduct searches. The DART team is made up 15 USAID disaster experts, a 57-person urban search and rescue (USAR) team from Los Angeles County (including six Canine Teams trained by the National Disaster Search Dog Foundation) and a 57-person USAR team from Fairfax, VA (which also includes six Canine Teams).
Updates:
April 30, 2015 - 11:12pm PST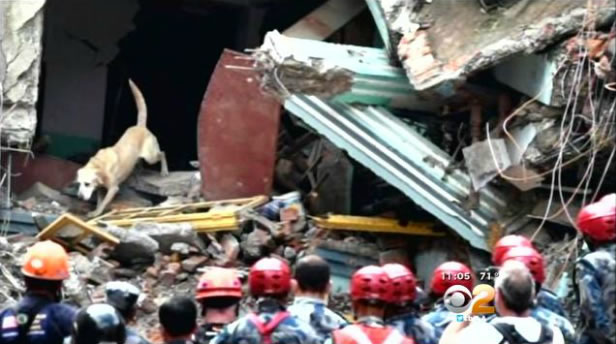 Only On 2: Dogs rescuing people under collapsed rubble in Nepal got their training in the Southland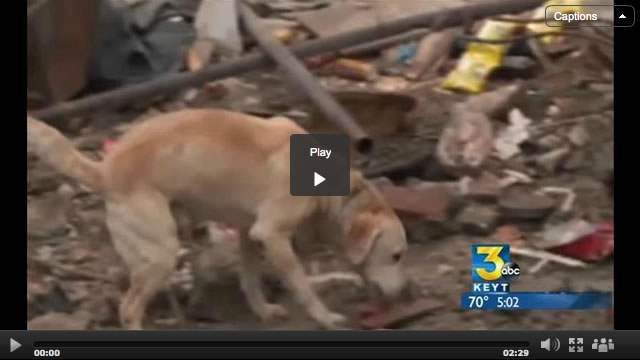 Local Search Dogs searching for earthquake victims in Nepal
April 27, 2015 - 3:00pm PST

Our thoughts and prayers are with the people of Nepal as they cope with the loved ones lost and lives destroyed by the 7.9 magnitude earthquake that devastated the region.
The United States has sent two Task Forces (California Task Force 2 and Virginia Task Force 1) to assist in rescue and recovery efforts in Nepal in response to a request from their government.
The California contingent included six Canine-Firefighter Search Teams trained by the National Disaster Search Dog Foundation. They boarded military aircraft bound for Katmandu on Sunday night as part of a 57-person rescue force that includes structural engineers, hazmat experts, doctors—and Canine Disaster Search Teams.
We are grateful to our supporters across the nation who helped make this resource possible. We will keep you updated as news comes in about the search and rescue efforts.
Video Story KEYT
"I just got your message about Rugby deploying to Nepal. I burst into tears like a proud parent." - Debra Geiger, who named Rugby
"I'm so proud of our teams. Together they will ease the burden of those in Nepal who will see that everything possible is being done to find their loved ones. These teams are ready!" - Wilma Melville, SDF Founder