Congratulations to SDF's four Disaster Search Teams who achieved advanced Type I Certification through the State Urban Search & Rescue Alliance (SUSAR) in June: Brian Girard & Keila, Keri Grant & Tucker, Laurel Pitman & Sonic and Andrea Sutcliffe & Skye!
SDF Program Manager Debra Tosch was in Salina, KS on Friday, June 2, to support SDF's Search Teams testing and shared that all three did beautifully! Our Dallas Handlers are considered veterans now and even though evaluations are never without some trepidation, the years they have spent with their canines have prepared them to be able to read and best understand their dog's body language. The time they spend training together is not just about building their skill level, it's about the bond that comes with that partnership and how it helps them to be successful on deployment.
"I was very apprehensive going into this test. With Skye's recent back surgery and being off for so long, I was afraid that he was not conditioned enough, especially since we really haven't had hot weather here in TX. I shouldn't have worried - he totally ROCKED it!!!! And in record time! 

Thank you again [and again, and again] for pairing me up with such an amazing partner. I worked really hard to get him conditioned and prepared for this test, and it paid off. Bottom line, it was all him!"

- Andi Sutcliffe, Handler of Search Dog Skye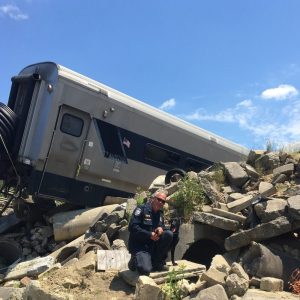 In addition, we are proud to announce that Albany-based Search Team Brian Girard & Keila achieved their advanced Type I Certification for the very first time! Brian and Keila's evaluation in New Jersey on Saturday, June 10th came just in time for them to deploy back in Utica, NY with teammates Greg Gould & Dax! Read that Deployment Report here.
How does Certification work?
Upon earning initial Certification, every canine team must be evaluated every three years to ensure they are maintaining the skills necessary to accomplish the task at hand – saving human lives after disasters strike! Regular standardized testing means the teams have proven they are prepared to do the job right when the call comes. This standard applies to all teams, whether their task force falls under the guidance of SUSAR or the Federal Emergency Management Agency (FEMA).
About the SUSAR Evaluation
The rubble piles on which the SUSAR canine teams' skills are tested is typically no less than ten feet high and covers an area of 5,000 square feet. The handler and canine are both evaluated during the timed 15 minutes they have to locate the live "victims" hidden under the debris.
Evaluators are observing and grading both the Handler and their Search Dog. They want to know that the Handler has assessed the safety of their environment for the sake of themselves and their canine partner. They need to see evidence of the Handler's search strategy and that they can direct the canine around the pile by command, and then read their canine's body language. The Search Dog is being evaluated on its ability to search independent of their handler and then how to identify and alert on live human scent, and nothing else. Often items are placed in the rubble to try to distract the dog, such as food and clothing. It seems tricky but these are things the teams will encounter on a real deployment and they have to know that when the dog gives a bark alert, it is because they found someone alive in need of rescue, and not because the dog wants lunch!
(Information provided by the State Urban Search & Rescue Alliance)
Thank you…
A big thank you goes out to Kansas Task Force 1, who hosted our nation's SUSAR teams at Crisis City over the weekend! A tremendous amount of effort, energy and manpower goes into the logistics planning and coordination of these evaluations, held at various locations throughout the year.
And thank you to Texas Task Force 2 for supporting your teams, and to the Search Teams themselves for their dedication to the program in service of our country.