On June 20 and 21, SDF welcomed Dr. Erin Perry and her team to the NTC to conduct Working Canine Research for Southern Illinois University. Dr. Perry is testing a new canine decontamination (DECON) process for handlers to use after searching each day on deployment.
Dr. Perry's study seeks to demonstrate if Handlers in the field, with appropriate training and supplies, can provide more timely and perhaps more thorough DECON as compared to the traditional DECON experience. More effective decontamination may also reduce the cross-contamination of potentially deadly microorganisms from the disaster site to other team members and to the base of operations.
Over the two-day case study at the NTC, ten canines participated in two different testing groups. One dog at a time, Dr. Perry's team applied a non-toxic contaminant (an invisible marker) to four locations on each dog's body: the throat, between the shoulder blades, the inner flank and a hind paw. They then used an ultraviolet flash and black light photography to capture images of the contaminant. Each Handler then washed their dog and returned to Dr. Perry for post-DECON photos. Dr. Perry's team used a software program to mathematically calculate the amount of reduction from the pre-DECON photos as compared to the post-DECON photos.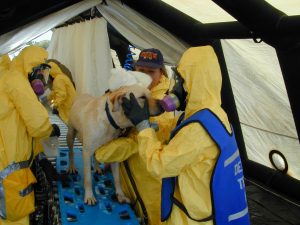 Dr. Perry is pleased with the results and believes that her study has begun to support her stance that Canine Handlers can do just as good a job protecting their canines as the currently recommended DECON process, if not better, due to their familiarity with their partners' anatomies. This simple change, from running canines through a HAZMAT center to allowing Handlers to carry their own lightweight kit, could save the Task Force time, money, and, more importantly, the life of a Search Dog during deployment.
SDF thanks California Task Force 2 for participation in this important study!
Jake Armendariz & Clancy
Dennis Clark & Rugby
Bob George & Shadow
Mike Toepfer & Canine Candidate Deacon